Available June 1, 2019

60 Square Meters

1 Bedroom

1 Bath

Separate Kitchen

Large Living Room

Elevator

Convenient Location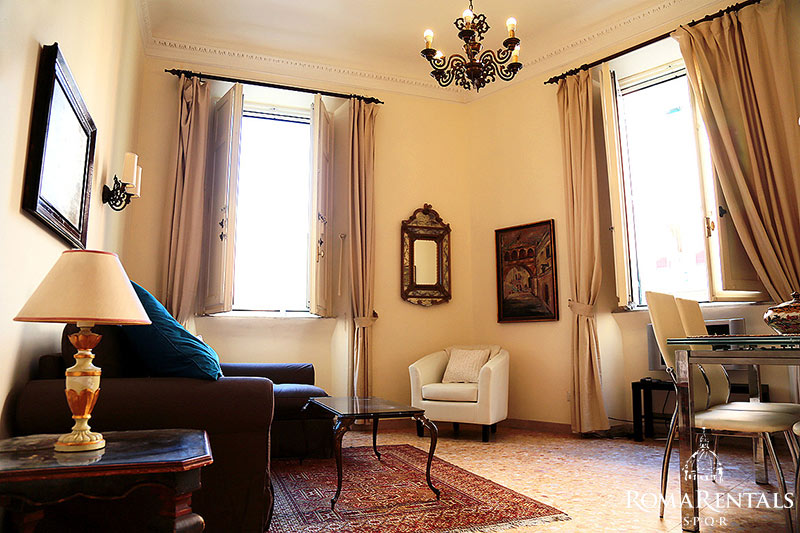 property: five hundred and three

     

PRICING KEY

€€€
Sunlight filters through tall windows, bouncing off high ceilings and cream walls, bathing this delightful apartment in a warm, natural glow. Accents such as vintage chandeliers and mirrors crafted with Venetian glass are elegantly balanced with the neutral hues of modern furnishings and amenities.Picture yourself in this warm and spacious home. Sunlight follows you through every room; from the cosy armchair in the bedroom, through the hallway, where you are greeted by an antique piano, to the cheery bathroom, breezy kitchen and finally the tastefully decorated living room. Touches of scarlet red, vivid yellow, aqua and electric blue add hints of color to this peaceful and sunny pied- à-terre.
The large living room is divided into a lounging space and a stylish dining area with a glass table as the centerpiece. In the kitchen, a smaller wood table provides a convenient breakfast nook under the golden light of the window. The bathroom's powder blue color and mint accents breathe life into the space, which is equipped with a shower, washing machine and a romantic vanity mirror.
Overlooking a quiet section of Trastevere, one of the most historic and bustling neighborhoods of Rome, this fully furnished apartment is ideally located within walking distance of the historical center and the tram line. A one-of-a-kind home where you can relax comfortably with a book, sit and watch life go by on the streets below, and even host dinner parties and get-togethers with friends. With every modern commodity at your availability, the true magic lies in the bits of history that surround you, whether that be the Murano glass chandelier or the ever-changing view of the streets outside.