Apartment for Rent – Rome – Trastevere
Vicolo di Santa Margherita
Available June 1st, 2020

40 Square Meters

1 Bedroom

1 Bath

 

Large Bathroom with Jacuzzi Tub

Large Living/Dining Area

Hardwood Floors

Central Location just steps from Piazza Santa Maria in Trastevere

Air Conditioning Throughout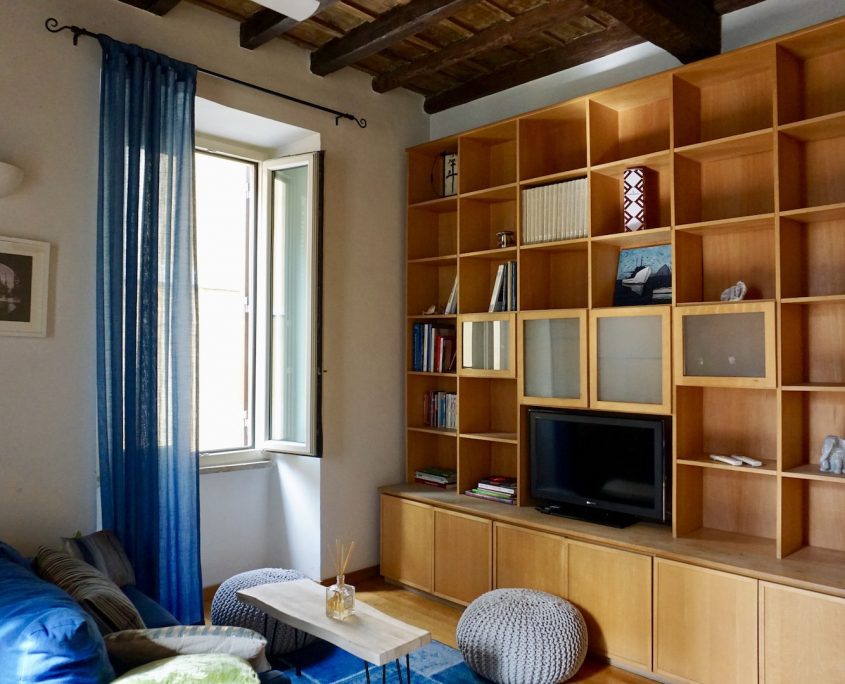 property: five

 hundred and fifty eight     

PRICING KEY

€€€ Scott
Apartment 440
"Sinead was the most helpful host. Very polite and friendly. The studio was charming and cosy, with the added bonus of a roof terrace." Jo
Birmingham, United Kingdom
"The apartment is in a beautiful part of Rome and we found it a fantastic base for our first trip there. The pictures shown are a true reflection, the apartment feels really spacious and beautifully designed. We had everything we needed."Apartment #271 Matt
Vancouver, Canada
"The apartment was as good as the pictures - excellent location, very quiet, and clean" Mark
Cambridge, UK
"Great apartment. Just a delight to stay in." - apartment 188 Jean-Baptise
Paris, France
"The location is ideal, we were able to do everything on foot. We are delighted with our stay in Rome!." Teresa
Toronto, Canada
"We really enjoyed staying at this apartment. The rooftop terrace is lovely and the apartment had everything we needed. The location is in a very vibrant and safe neighborhood with tons of great restaurants nearby."Apartment #271 Hazel
Washington D.C., USA
"The apartment was great, fantastic location, had everything we needed for our stay." Guido
Turin, Italy
"The apartment is probably better than in pictures, very comfortable, clean and well furnished. It' s strategically located in a safe and quiet street, very close to Trastevere centre." Kees
Groningen, Netherlands
"The apartment is great: clean and comfortable, fast wifi connection, very welcoming and lighter than I expected based on the photos. The location is perfect, in the nicer parts of Trastevere." Hank
Sullivan's Island, USA
"The Trastevere apartment is in a perfect location. It was lovely: comfortable, and clean."
Located in the heart of the vibrant neighborhood of Trastevere, this one-bedroom apartment is located just a minute walk from Piazza Santa Maria. Offering a mixture of modern and comfort with warm brick and wood accents throughout. Newly renovated the apartment is full of natural light. Perfect for a single or couple, student or young professional. The apartment is accented with hardwood floors and characteristic wood-beam ceilings. spacious.  The layout of the apartment is simply. Along the entry corridor is the master suite. The bedroom is comfortable with large closets and an independent air conditioning unit. The master bathroom is dawned with clay tiles. The highlight of the bathroom is the large Jacuzzi tub. At the end of the entry corridor is the living area. The living area has a pullout sofa for guests, a flat screen TV and a large wooden shelving unit. The dining table is glass and can comfortably seat four people for dinner. The kitchen is small but has plenty of storage space. A well-positioned retreat in the heart of Rome's Trastevere neighborhood.