Apartment for Rent – Rome – Trastevere
Vicolo di Santa Margherita
Available June 1st, 2020

40 Square Meters

1 Bedroom

1 Bath

 

Large Bathroom with Jacuzzi Tub

Large Living/Dining Area

Hardwood Floors

Central Location just steps from Piazza Santa Maria in Trastevere

Air Conditioning Throughout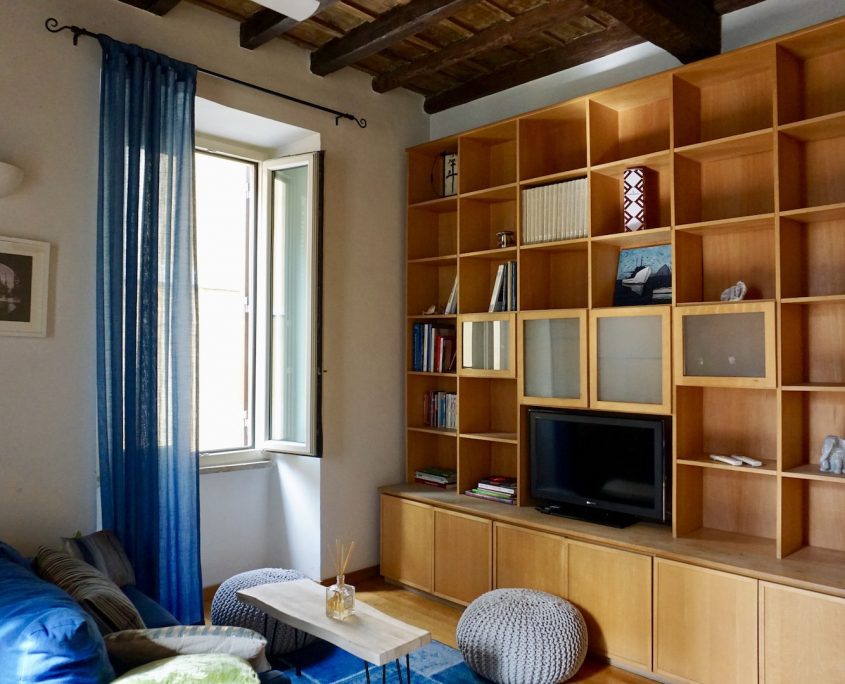 property: five

 hundred and fifty eight     

PRICING KEY

€€€ Susanne
Copenhagen, Denmark
"The apartment is very much in the middle of it all. Great location for all the sights of Rome, nightlife, restaurants." Amo
Hoeslet, Belgium
"The flat is big, super clean and well situated. Kyle showed me the flat and we went through a file compiling all the information you need for your stay." Asif
Apartment 340
"The location is simply ideal. You come out on to wonderful cobblestone streets with something on every corner including many good places to eat!" Lee
London, UK
"The apartment in Centro Storico was fantastic. The location is amazing . I'd recommend the apartment 100% and would have no qualms going back" Lauren
Germany
"Amazing! This apartment really made our trip incredible and had everything needed for a holiday in Rome. The private terrace was definitely our favorite spot" Trevor
Apartment 167
"Nice 2 bedroom with a balcony in a central part of town. Very clean, as described, and Sinead was both a knowledgeable and pleasant host." Mark
Toronto, Canada
"The apartment was clean and well-stocked. It is in an ideal location: near 2 Metro Stations - but we mostly walked as most of the central attractions were not far away." Hank
Sullivan's Island, USA
"The Trastevere apartment is in a perfect location. It was lovely: comfortable, and clean." Troy
Chicago, Illinois, USA
"the apartment is situated on a quiet and beautiful street close to it all. The apartment was very clean and comfortable as well as the building overall." Jean-Baptise
Paris, France
"The location is ideal, we were able to do everything on foot. We are delighted with our stay in Rome!."
Located in the heart of the vibrant neighborhood of Trastevere, this one-bedroom apartment is located just a minute walk from Piazza Santa Maria. Offering a mixture of modern and comfort with warm brick and wood accents throughout. Newly renovated the apartment is full of natural light. Perfect for a single or couple, student or young professional. The apartment is accented with hardwood floors and characteristic wood-beam ceilings. spacious.  The layout of the apartment is simply. Along the entry corridor is the master suite. The bedroom is comfortable with large closets and an independent air conditioning unit. The master bathroom is dawned with clay tiles. The highlight of the bathroom is the large Jacuzzi tub. At the end of the entry corridor is the living area. The living area has a pullout sofa for guests, a flat screen TV and a large wooden shelving unit. The dining table is glass and can comfortably seat four people for dinner. The kitchen is small but has plenty of storage space. A well-positioned retreat in the heart of Rome's Trastevere neighborhood.