Available June 25, 2019

75 square meters

2 Bedrooms

2 Bath

Living Room / Dining Room

Full Kitchen

Lively Pedestrian Only Street

5 Minute Walk to Vatican/St. Peters

Recently Refurbished

Well Decorated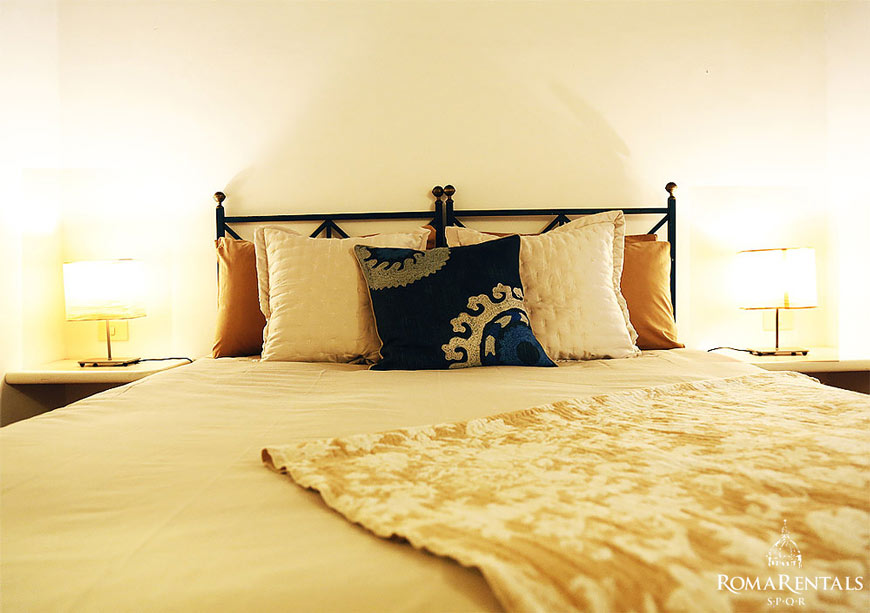 property: 

five hundred an

d six

     

PRICING KEY

€€€€
Located a stone's throw from the Vatican on the charming pedestrian street of Borgo Pio, this cozy two-bedroom apartment has detailed vintage elements reminiscent of a Tuscan country house with the feel of a stylish Scandinavian loft. 
The living area is the focal point of the home and is composed of a dining room with a wooden table that basks in the light of a one-of-a-kind original 50's lamp and a den, in which built in bookshelves line the wall and faces a retro style sofa and gold art deco coffee tables. 
This pied-a-terre's unique layout provides privacy for both the master bedroom, which has sliding doors, a large built-in closet, and the guest suite, which is tucked away on the other side of the apartment. Both bedrooms have private bathrooms decorated with vintage hand-painted tiles, as well as closets and storage space. The washing machine can be found off of the guest suite, on a sunny balcony terrace that peeks out over several neighbouring courtyards. An elegant appartment.