Available March 1, 2018

55 Square Meters

1 Bedroom

1 Bath

Balcony with Views of the Ancient Roman Walls

Spacious Living/Dining Area

Newly Renovated Kitchen

Large Built-Ins Throughout

Bathroom with Soaking Tub

Quiet Location

Easily Accessible to Public Transportation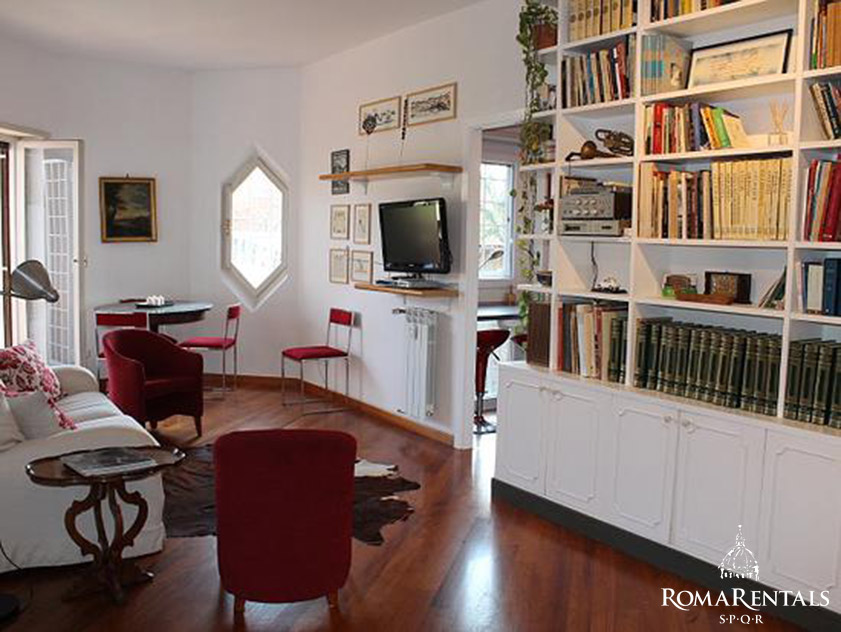 property: five hundred and nineteen Asif
Apartment 340
"The location is simply ideal. You come out on to wonderful cobblestone streets with something on every corner including many good places to eat!" Guido
Turin, Italy
"The apartment is probably better than in pictures, very comfortable, clean and well furnished. It' s strategically located in a safe and quiet street, very close to Trastevere centre." Susanne
Copenhagen, Denmark
"The apartment is very much in the middle of it all. Great location for all the sights of Rome, nightlife, restaurants." Michael
Topeka, Kansas, USA
"Fantastic location in the heart of Trastevere. Apartment was roomy and well decorated. The terrace was a fantastic way to end the evening or begin the day for those arising early. " Lee
London, UK
"The apartment in Centro Storico was fantastic. The location is amazing . I'd recommend the apartment 100% and would have no qualms going back" Liz
Amsterdam, Netherlands
"The apartment itself is so much bigger than it looks in the pictures! The kitchen in particular is really awesome. Everything is modern and works well. I would highly recommend staying in this apartment when in Rome for a genuine Roman experience!" Teresa
Toronto, Canada
"We really enjoyed staying at this apartment. The rooftop terrace is lovely and the apartment had everything we needed. The location is in a very vibrant and safe neighborhood with tons of great restaurants nearby." Apartment #271 Thomas
Chicago, USA
"Perfect apartment for our family of three in Rome with a great neighborhood location in Trastevere. Spacious, with a comfortable double bed in the main bedroom. Walking distance to numerous stores, cafes, bars, restaurants and gelaterie." Jean-Baptise
Paris, France
"The location is ideal, we were able to do everything on foot. We are delighted with our stay in Rome!." Bosko
Chicago, Illinois, USA
"Location, location and location. Excellent place in Trastevere that is walking distance to shops, restaurants and historical sites. Apartment was very comfortable for 2 people."
Nestled against the ancient Roman walls, this bright, one-bedroom, one-bathroom apartment is the perfect place for someone seeking a quiet location that provides easy access to public transportation. As you enter the gates of the building you will immediately notice the well maintained lush gardens and intricate stonework. You can access the first floor apartment by elevator or stairs. The open floor plan makes this apartment perfect for entertaining. The dining alcove has a table for six set amongst a beautiful library with collections of books. Hardwood floors throughout. The living area has a pull-out sofa, comfortable arm chairs and a breakfast table with four chairs. Onto the patio, your eyes will notice the historic Roman walls that are almost within an arm's reach. The kitchen has been recently updated with plenty of storage and a breakfast bar overlooking the ruins. The recently updated bathroom has a large soaking tub and rainwater showerhead. Plenty of storage throughout. The bedroom has been designed around customized built-ins offering ample storage space to any new resident. Well-positioned near Piazza Ippoltio Nievo, equidistant between Trastevere Station and the Historic Center, this apartment is ideal for commutes to the airport or the offices of one of the many businesses and humanitarian organizations in Rome.