Available NOW

55 Square Meters

1 Bedroom

1 Bath

 

Private Terrace

Fully Equipped Kitchen

Multi-Level Layout

Soaking Tub

Close to Piazza Santa Maria in Trastevere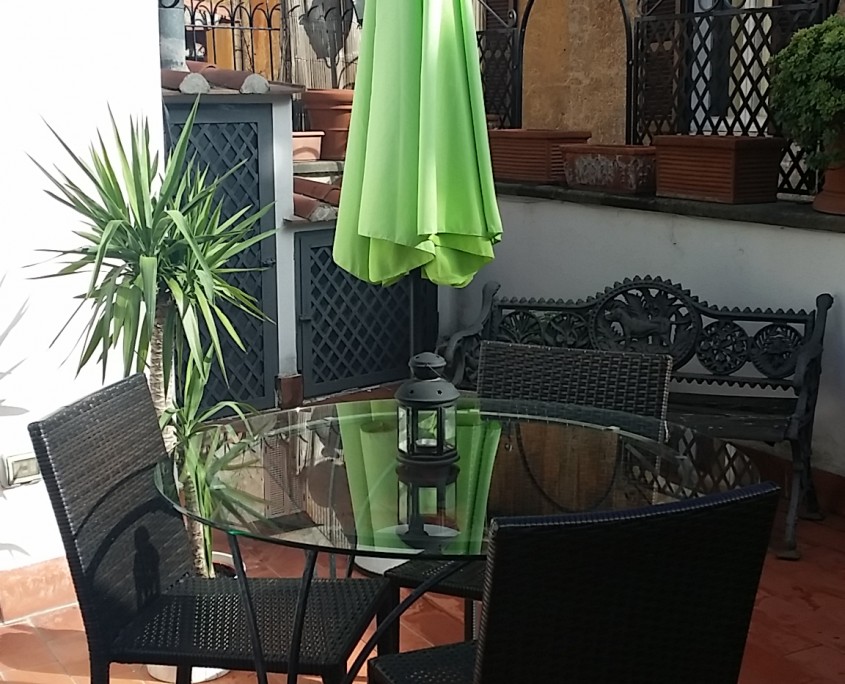 property: one

 hundred and five     

PRICING KEY

€€€ Bosko
Chicago, Illinois, USA
"Location, location and location. Excellent place in Trastevere that is walking distance to shops, restaurants and historical sites. Apartment was very comfortable for 2 people." Jo
Birmingham, United Kingdom
"The apartment is in a beautiful part of Rome and we found it a fantastic base for our first trip there. The pictures shown are a true reflection, the apartment feels really spacious and beautifully designed. We had everything we needed."Apartment #271 Hazel
Washington D.C., USA
"The apartment was great, fantastic location, had everything we needed for our stay." Matt
Vancouver, Canada
"The apartment was as good as the pictures - excellent location, very quiet, and clean" Bev
London, United Kingdom
"The apartment is gorgeous, exactly like the photos on the website. The terrace is lovely, a great place for breakfast and for a glass of wine at the end of the day." Lee
London, UK
"The apartment in Centro Storico was fantastic. The location is amazing . I'd recommend the apartment 100% and would have no qualms going back" Michael
Topeka, Kansas, USA
"Fantastic location in the heart of Trastevere. Apartment was roomy and well decorated. The terrace was a fantastic way to end the evening or begin the day for those arising early. " Amo
Hoeslet, Belgium
"The flat is big, super clean and well situated. Kyle showed me the flat and we went through a file compiling all the information you need for your stay." Mark
Toronto, Canada
"The apartment was clean and well-stocked. It is in an ideal location: near 2 Metro Stations - but we mostly walked as most of the central attractions were not far away." Kees
Groningen, Netherlands
"The apartment is great: clean and comfortable, fast wifi connection, very welcoming and lighter than I expected based on the photos. The location is perfect, in the nicer parts of Trastevere."
Located on Via della Pelliccia in the heart of Trastevere, this one-bedroom, one-bathroom apartment is a private oasis in the center of one of Rome's premier neighborhoods. The apartment opens into a spacious living room/dining room equipped with characteristic built-ins. The galley kitchen is equipped with all of the amenities. As you ascend the ornate stone staircase, the second floor is dedicated to the master bedroom, master bathroom and dressing area. The third floor features a small study area with built-in desk. Step out onto the spacious, private rooftop terrace and enjoy the Roman days and nights.