Apartment for Rent – Rome – Trastevere
Available NOW

95 Square Meters

2 Bedrooms

2 Bath

Large Living Room

Fully-Equipped Kitchen

Beautiful Terrazzo Floors Throughout

Small Terrace / Balcony

Neighborhood Shopping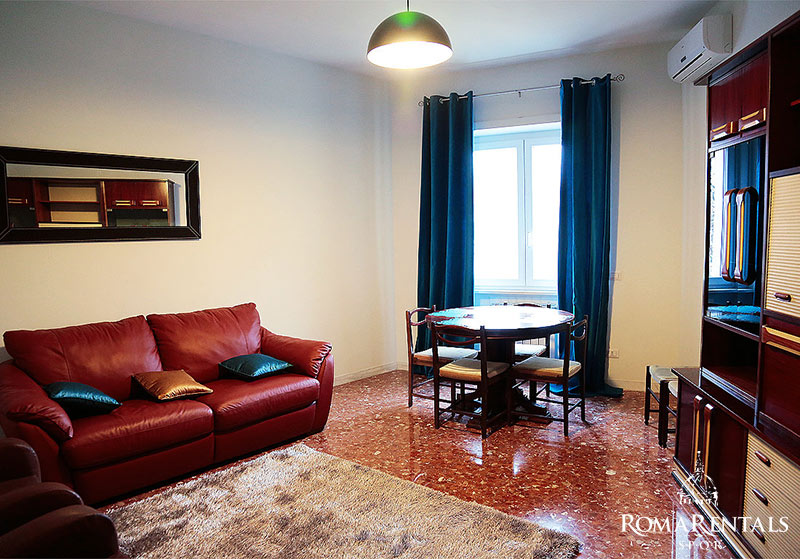 property:four hundred and ninety two

     

PRICING KEY

€€€€ Trevor
Apartment 167
"Nice 2 bedroom with a balcony in a central part of town. Very clean, as described, and Sinead was both a knowledgeable and pleasant host." Molly
340
"Sinead and Kyle were so accommodating and so helpful all around. The apartment was the perfect size for us. 5 star stay all the way. Will definitely be back and stay again!" Asif
Apartment 340
"The location is simply ideal. You come out on to wonderful cobblestone streets with something on every corner including many good places to eat!" Lauren
Germany
"Amazing! This apartment really made our trip incredible and had everything needed for a holiday in Rome. The private terrace was definitely our favorite spot" Mark
Toronto, Canada
"The apartment was clean and well-stocked. It is in an ideal location: near 2 Metro Stations - but we mostly walked as most of the central attractions were not far away." Teresa
Toronto, Canada
"We really enjoyed staying at this apartment. The rooftop terrace is lovely and the apartment had everything we needed. The location is in a very vibrant and safe neighborhood with tons of great restaurants nearby." Apartment #271 Marisa
Apartment 340
"Great location on a quiet street in the heart of Trastevere. The host was super responsive and helpful." Matt
Vancouver, Canada
"The apartment was as good as the pictures - excellent location, very quiet, and clean" Hank
Sullivan's Island, USA
"The Trastevere apartment is in a perfect location. It was lovely: comfortable, and clean." Michael
Topeka, Kansas, USA
"Fantastic location in the heart of Trastevere. Apartment was roomy and well decorated. The terrace was a fantastic way to end the evening or begin the day for those arising early. "
Located on Viale di Trastevere, this 95 sqm recently refurnished and revamped apartment is perfect for someone looking for a spacious and centrally-located home. The large lounge area and dining room provide a comfortable space for you to host family and friends. Relax on the comfortable sofa and armchairs or dine at round, wooden dining table next to the tall windows framed by soft blue curtains. The spacious eat-in kitchen faces the living room, and has a cozy breakfast table for quick meals. The study can be easily converted into a second bedroom wich looks out onto Trastevere and has a desk, beautiful wardrobe and a French bed. 
The pops of red and calming grey of the main bedroom are balanced by the ornate wooden wardrobes, creating a modern and elegant atmosphere. Opening onto one of the small terraces, which overlooks bustling Trastevere, the bedroom offers a scenic but quiet view into daily life. Across from the main bedroom there are two tiled bathrooms, each with shower stalls, and one with a long balcony you can use to hang your laundry during the warm summer months. Air conditioning throughout and built in storage space make this apartment an ideal home.