Apartment for Rent – Rome – Trastevere
Available NOW

200 Square Meters

3 Bedrooms

2 Bath

Library with Dining Table

Modern Kitchen

Plenty of Storage Space

Bright

Quiet Trastevere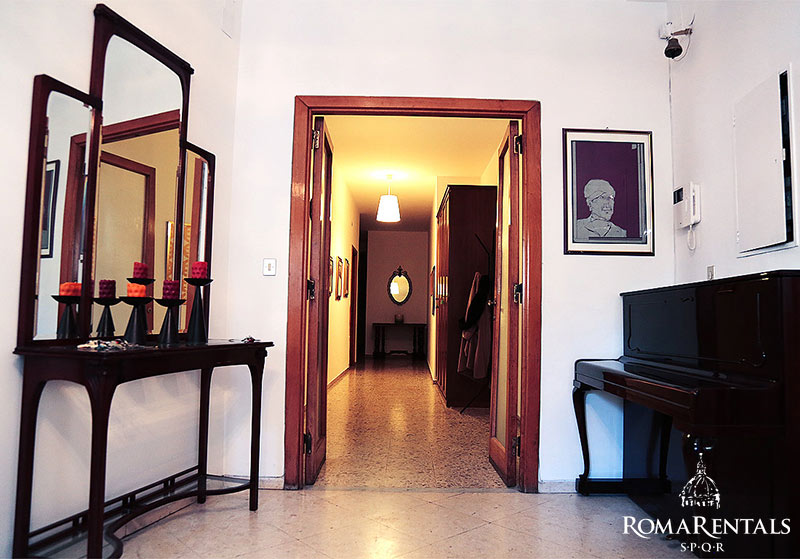 property: three hundred and fifty one

     

PRICING KEY

5€ Marisa
Apartment 340
"Great location on a quiet street in the heart of Trastevere. The host was super responsive and helpful." Matt
Vancouver, Canada
"The apartment was as good as the pictures - excellent location, very quiet, and clean" Jo
Birmingham, United Kingdom
"The apartment is in a beautiful part of Rome and we found it a fantastic base for our first trip there. The pictures shown are a true reflection, the apartment feels really spacious and beautifully designed. We had everything we needed."Apartment #271 Teresa
Toronto, Canada
"We really enjoyed staying at this apartment. The rooftop terrace is lovely and the apartment had everything we needed. The location is in a very vibrant and safe neighborhood with tons of great restaurants nearby."Apartment #271 Trevor
Apartment 167
"Nice 2 bedroom with a balcony in a central part of town. Very clean, as described, and Sinead was both a knowledgeable and pleasant host." John
New Mexico, USA
Fantastic place to stay - perfectly situated in Rome easy access from Roma Termini. Close to Colosseum and transportation from there is easy to everywhere else. Many fine restaurants and coffee shops within easy walking distance. No problem at all with Wi-Fi or air conditioning at all. Coded entry and elevator made things much more comfortable. Very nice neighborhood and quiet considering you're in Rome. Mark
Cambridge, UK
"Great apartment. Just a delight to stay in." - apartment 188 David
Hartsdale, US
"The inside of the apartment was better than all the descriptions and pictures - and perfect for us." Margaret
South Bend, Indiana, USA
"The apartment was immaculate, well-furnished, and very comfortable. The terrace is even more lovely than the pictures suggest. This was a great apartment!" Troy
Chicago, Illinois, USA
"the apartment is situated on a quiet and beautiful street close to it all. The apartment was very clean and comfortable as well as the building overall."
Located in the quieter part of Rome's Trastevere neighborhood, this three-bedroom, two-bathroom apartment is perfect for families, friends and multi-generational vacationers. Plenty of space to stretch out in this 200 square meter apartment. As you enter the secured door, the apartment opens into a spacious foyer that can double as a second living room. The room as two sofas, one that turns into a comfortable bed. The first of two bathrooms is decorated in period tile and has a stall shower and pedestal sink. The first of three bedrooms has two double beds and can comfortably sleep four people. All of the remaining rooms branch off a large central corridor that has plenty of storage space throughout.The formal living/dining room has great period pieces. The room is a great place to plan your daily activities and where you can relax after a long day of touring Rome. The large table can comfortably seat eight people. The second of three bedrooms has two single beds and several antique pieces throughout. A third single bed can be added, if needed. The third bedroom is simple with two double beds and can comfortably sleep four people. The second bathroom has a washing machine and small bathtub/shower. Finally, at the end of the corridor is a newly renovated kitchen with all of the essential items. Oven, four-burner gas stovetop, dishwasher and basic cookware, utensils and serving ware. A great space in Rome's most vibrant neighborhood and available for short and long-term rentals.