Apartment for Rent – Rome – Trastevere
Available NOW

100 Square Meters

3 Bedrooms

2 Bath

 

Large Open Living/Dining Area

Modern Kitchen

Plenty of Storage Space

Bright

Quiet Trastevere Terrace

Access to Condominium Terrace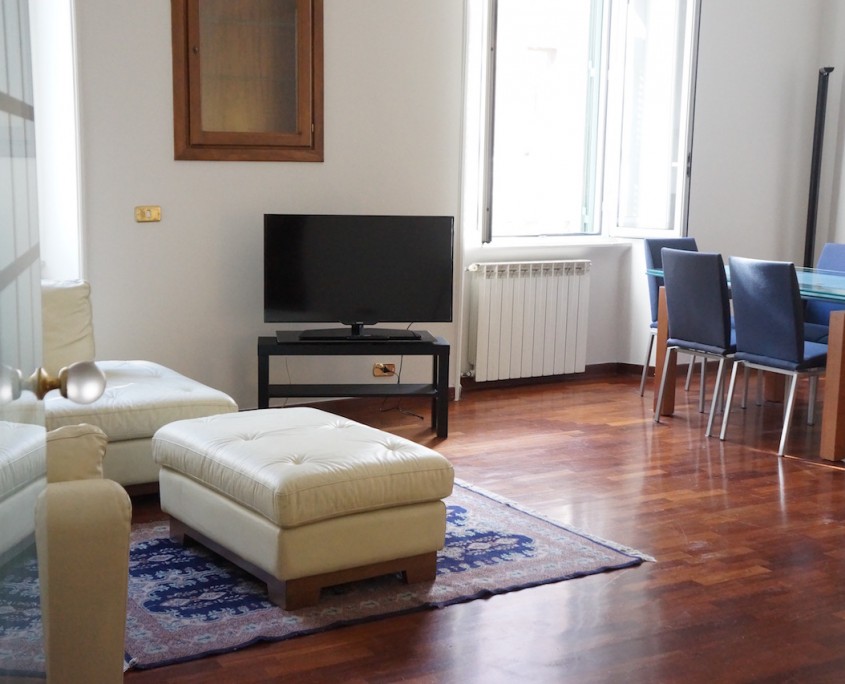 property: five hundred and twenty six    PRICING KEY 5€ Cedric
Tours, France
"The apartment is lovely, quite big, a lot of light, very well decorated, extremely clean." Michael
Topeka, Kansas, USA
"Fantastic location in the heart of Trastevere. Apartment was roomy and well decorated. The terrace was a fantastic way to end the evening or begin the day for those arising early. " Guido
Turin, Italy
"The apartment is probably better than in pictures, very comfortable, clean and well furnished. It' s strategically located in a safe and quiet street, very close to Trastevere centre." Lee
London, UK
"The apartment in Centro Storico was fantastic. The location is amazing . I'd recommend the apartment 100% and would have no qualms going back" Jo
Birmingham, United Kingdom
"The apartment is in a beautiful part of Rome and we found it a fantastic base for our first trip there. The pictures shown are a true reflection, the apartment feels really spacious and beautifully designed. We had everything we needed." Apartment #271 Teresa
Toronto, Canada
"We really enjoyed staying at this apartment. The rooftop terrace is lovely and the apartment had everything we needed. The location is in a very vibrant and safe neighborhood with tons of great restaurants nearby." Apartment #271 Hank
Sullivan's Island, USA
"The Trastevere apartment is in a perfect location. It was lovely: comfortable, and clean." Thomas
Chicago, USA
"Perfect apartment for our family of three in Rome with a great neighborhood location in Trastevere. Spacious, with a comfortable double bed in the main bedroom. Walking distance to numerous stores, cafes, bars, restaurants and gelaterie." Scott
Apartment 440
"Sinead was the most helpful host. Very polite and friendly. The studio was charming and cosy, with the added bonus of a roof terrace." Bev
London, United Kingdom
"The apartment is gorgeous, exactly like the photos on the website. The terrace is lovely, a great place for breakfast and for a glass of wine at the end of the day."
Located high above Via Dandolo, one of Trastevere's most picturesque streets, this recently refurbished 3-bedroom, 2-bathroom apartment has it ALL. As you enter the apartment, you will immediately notice the hardwood floors throughout and the spacious closets lining the hallway. Each bedroom has lots of light and updated furnishings. The spacious living room/dining room is perfect for family gatherings or the perfect dinner party. The modern kitchen has all the amenities; washing machine, dishwasher, oven, stovetop and full-size refrigerator. Each bathroom has customized fixtures and beautiful tile work. The large windows look onto Via Dandolo in the living room and a quiet internal courtyard in each of the bedrooms.