Available NOW (Vacation Rental Only)

45 Square Meters

1 Bedroom

1 Bath

 

Private Terrrace

Galley Kitchen

Eclectic Decor

Quiet Trastevere Location

Two Sleeper Sofas (Can Sleep 5 people)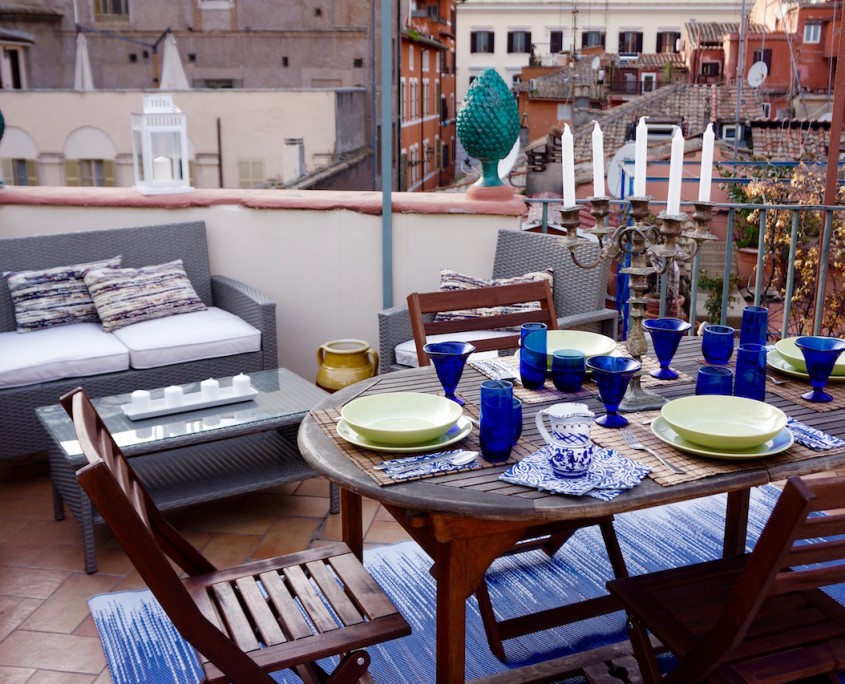 property: two hundred and seventeen Lauren
Germany
"Amazing! This apartment really made our trip incredible and had everything needed for a holiday in Rome. The private terrace was definitely our favorite spot" John
New Mexico, USA
Fantastic place to stay - perfectly situated in Rome easy access from Roma Termini. Close to Colosseum and transportation from there is easy to everywhere else. Many fine restaurants and coffee shops within easy walking distance. No problem at all with Wi-Fi or air conditioning at all. Coded entry and elevator made things much more comfortable. Very nice neighborhood and quiet considering you're in Rome. Bosko
Chicago, Illinois, USA
"Location, location and location. Excellent place in Trastevere that is walking distance to shops, restaurants and historical sites. Apartment was very comfortable for 2 people." Bev
London, United Kingdom
"The apartment is gorgeous, exactly like the photos on the website. The terrace is lovely, a great place for breakfast and for a glass of wine at the end of the day." David
Hartsdale, US
"The inside of the apartment was better than all the descriptions and pictures - and perfect for us." Scott
Apartment 440
"Sinead was the most helpful host. Very polite and friendly. The studio was charming and cosy, with the added bonus of a roof terrace." Thomas
Chicago, USA
"Perfect apartment for our family of three in Rome with a great neighborhood location in Trastevere. Spacious, with a comfortable double bed in the main bedroom. Walking distance to numerous stores, cafes, bars, restaurants and gelaterie." Trevor
Apartment 167
"Nice 2 bedroom with a balcony in a central part of town. Very clean, as described, and Sinead was both a knowledgeable and pleasant host." Kees
Groningen, Netherlands
"The apartment is great: clean and comfortable, fast wifi connection, very welcoming and lighter than I expected based on the photos. The location is perfect, in the nicer parts of Trastevere." George
Needham, Massachusetts, USA
"The apartment has fantastic windows which really reduce the noise from the busy street. Fantastic location in the middle of Trastevere with many restaurants close. I would definitely stay here again in the future."
On the third and top floor of a typical Trastevere building, the views from the terrace of this unique apartment are stunning. On one side Gianicolo Hill and the beautiful Spanish Embassy, on the other, the roofs and terraces of Trastevere. The apartment has windows exposed on all sides and incredible light throughout. The tiles are of rare Sicilian craftsmanship. A small entrance hall with sofa and bookcase, kitchen with sliding glass doors, a spacious lounge with large sofa and benches along the wall, and finally a lovely alcove bedroom furnished with an antique chest and new. A beautiful hideaway in busy Trastevere.