Available NOW (Vacation Rental Only)

45 Square Meters

1 Bedroom

1 Bath

 

Private Terrrace

Galley Kitchen

Eclectic Decor

Quiet Trastevere Location

Two Sleeper Sofas (Can Sleep 5 people)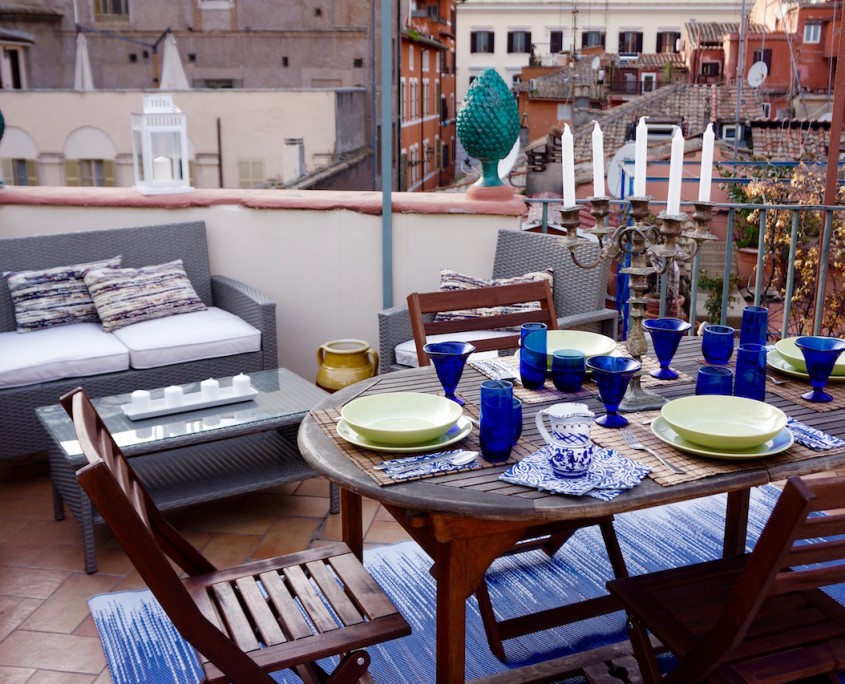 property: two hundred and seventeen Susanne
Copenhagen, Denmark
"The apartment is very much in the middle of it all. Great location for all the sights of Rome, nightlife, restaurants." Teresa
Toronto, Canada
"We really enjoyed staying at this apartment. The rooftop terrace is lovely and the apartment had everything we needed. The location is in a very vibrant and safe neighborhood with tons of great restaurants nearby." Apartment #271 George
Needham, Massachusetts, USA
"The apartment has fantastic windows which really reduce the noise from the busy street. Fantastic location in the middle of Trastevere with many restaurants close. I would definitely stay here again in the future." Xavier
Zurich, Switzerland
"The apartment was really nice and the Trastevere neighbourhood the best option to stay at Rome in our opinión." Marisa
Apartment 340
"Great location on a quiet street in the heart of Trastevere. The host was super responsive and helpful." Bev
London, United Kingdom
"The apartment is gorgeous, exactly like the photos on the website. The terrace is lovely, a great place for breakfast and for a glass of wine at the end of the day." David
Hartsdale, US
"The inside of the apartment was better than all the descriptions and pictures - and perfect for us." Matt
Vancouver, Canada
"The apartment was as good as the pictures - excellent location, very quiet, and clean" Ehud
Ramat Gan, Israel
"The place is warm, clean and very pleasant.' Hazel
Washington D.C., USA
"The apartment was great, fantastic location, had everything we needed for our stay."
On the third and top floor of a typical Trastevere building, the views from the terrace of this unique apartment are stunning. On one side Gianicolo Hill and the beautiful Spanish Embassy, on the other, the roofs and terraces of Trastevere. The apartment has windows exposed on all sides and incredible light throughout. The tiles are of rare Sicilian craftsmanship. A small entrance hall with sofa and bookcase, kitchen with sliding glass doors, a spacious lounge with large sofa and benches along the wall, and finally a lovely alcove bedroom furnished with an antique chest and new. A beautiful hideaway in busy Trastevere.