Available NOW (Vacation Rental Only)

45 Square Meters

1 Bedroom

1 Bath

 

Private Terrrace

Galley Kitchen

Eclectic Decor

Quiet Trastevere Location

Two Sleeper Sofas (Can Sleep 5 people)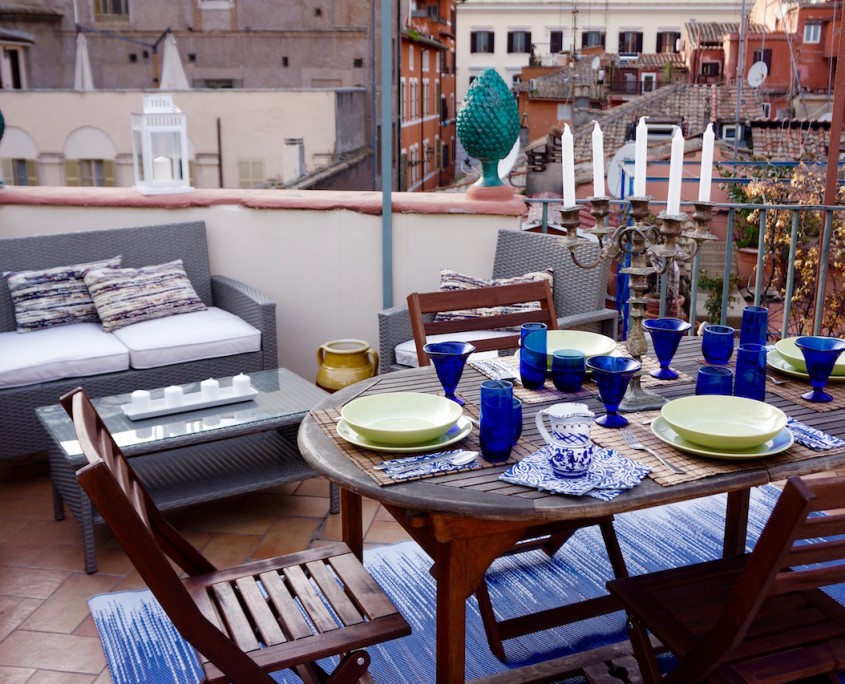 property: two hundred and seventeen Kees
Groningen, Netherlands
"The apartment is great: clean and comfortable, fast wifi connection, very welcoming and lighter than I expected based on the photos. The location is perfect, in the nicer parts of Trastevere." Liz
Amsterdam, Netherlands
"The apartment itself is so much bigger than it looks in the pictures! The kitchen in particular is really awesome. Everything is modern and works well. I would highly recommend staying in this apartment when in Rome for a genuine Roman experience!" Ehud
Ramat Gan, Israel
"The place is warm, clean and very pleasant.' Marisa
Apartment 340
"Great location on a quiet street in the heart of Trastevere. The host was super responsive and helpful." Cedric
Tours, France
"The apartment is lovely, quite big, a lot of light, very well decorated, extremely clean." Trevor
Apartment 167
"Nice 2 bedroom with a balcony in a central part of town. Very clean, as described, and Sinead was both a knowledgeable and pleasant host." Asif
Apartment 340
"The location is simply ideal. You come out on to wonderful cobblestone streets with something on every corner including many good places to eat!" Jean-Baptise
Paris, France
"The location is ideal, we were able to do everything on foot. We are delighted with our stay in Rome!." Susanne
Copenhagen, Denmark
"The apartment is very much in the middle of it all. Great location for all the sights of Rome, nightlife, restaurants." Nicole
Ithaca, NY USA
"Really wonderful apartment. It was great to spend the evenings on the terrace. The living room is also very nice and happily the apartment didn't get too hot"
On the third and top floor of a typical Trastevere building, the views from the terrace of this unique apartment are stunning. On one side Gianicolo Hill and the beautiful Spanish Embassy, on the other, the roofs and terraces of Trastevere. The apartment has windows exposed on all sides and incredible light throughout. The tiles are of rare Sicilian craftsmanship. A small entrance hall with sofa and bookcase, kitchen with sliding glass doors, a spacious lounge with large sofa and benches along the wall, and finally a lovely alcove bedroom furnished with an antique chest and new. A beautiful hideaway in busy Trastevere.