Apartment for Rent – Rome – Trastevere
Available NOW

100 Square Meters

3 Bedrooms

2 Bath

 

Large Open Living/Dining Area

Modern Kitchen

Plenty of Storage Space

Bright

Quiet Trastevere Terrace

Access to Condominium Terrace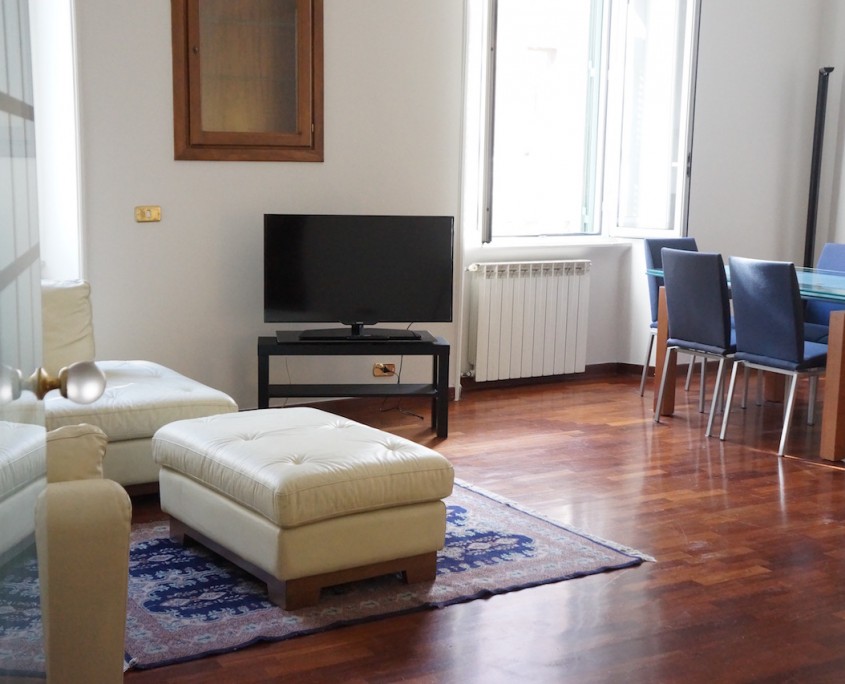 property: five hundred and twenty six    PRICING KEY 5€ Scott
Apartment 440
"Sinead was the most helpful host. Very polite and friendly. The studio was charming and cosy, with the added bonus of a roof terrace." Thomas
Chicago, USA
"Perfect apartment for our family of three in Rome with a great neighborhood location in Trastevere. Spacious, with a comfortable double bed in the main bedroom. Walking distance to numerous stores, cafes, bars, restaurants and gelaterie." Margaret
South Bend, Indiana, USA
"The apartment was immaculate, well-furnished, and very comfortable. The terrace is even more lovely than the pictures suggest. This was a great apartment!" Asif
Apartment 340
"The location is simply ideal. You come out on to wonderful cobblestone streets with something on every corner including many good places to eat!" Kees
Groningen, Netherlands
"The apartment is great: clean and comfortable, fast wifi connection, very welcoming and lighter than I expected based on the photos. The location is perfect, in the nicer parts of Trastevere." Michael
Topeka, Kansas, USA
"Fantastic location in the heart of Trastevere. Apartment was roomy and well decorated. The terrace was a fantastic way to end the evening or begin the day for those arising early. " Liz
Amsterdam, Netherlands
"The apartment itself is so much bigger than it looks in the pictures! The kitchen in particular is really awesome. Everything is modern and works well. I would highly recommend staying in this apartment when in Rome for a genuine Roman experience!" Xavier
Zurich, Switzerland
"The apartment was really nice and the Trastevere neighbourhood the best option to stay at Rome in our opinión." Bosko
Chicago, Illinois, USA
"Location, location and location. Excellent place in Trastevere that is walking distance to shops, restaurants and historical sites. Apartment was very comfortable for 2 people." Susanne
Copenhagen, Denmark
"The apartment is very much in the middle of it all. Great location for all the sights of Rome, nightlife, restaurants."
Located high above Via Dandolo, one of Trastevere's most picturesque streets, this recently refurbished 3-bedroom, 2-bathroom apartment has it ALL. As you enter the apartment, you will immediately notice the hardwood floors throughout and the spacious closets lining the hallway. Each bedroom has lots of light and updated furnishings. The spacious living room/dining room is perfect for family gatherings or the perfect dinner party. The modern kitchen has all the amenities; washing machine, dishwasher, oven, stovetop and full-size refrigerator. Each bathroom has customized fixtures and beautiful tile work. The large windows look onto Via Dandolo in the living room and a quiet internal courtyard in each of the bedrooms.