Apartment for Rent – Rome – Trastevere
Available March 1st 2020

50 Square Meters

1 Bedroom

1 Bath

Renovated Kitchen with Dining Table

Sofa Bed for

Guests

Large Bathroom with Soaking Tub

New Furnishings Throughout

Quiet Location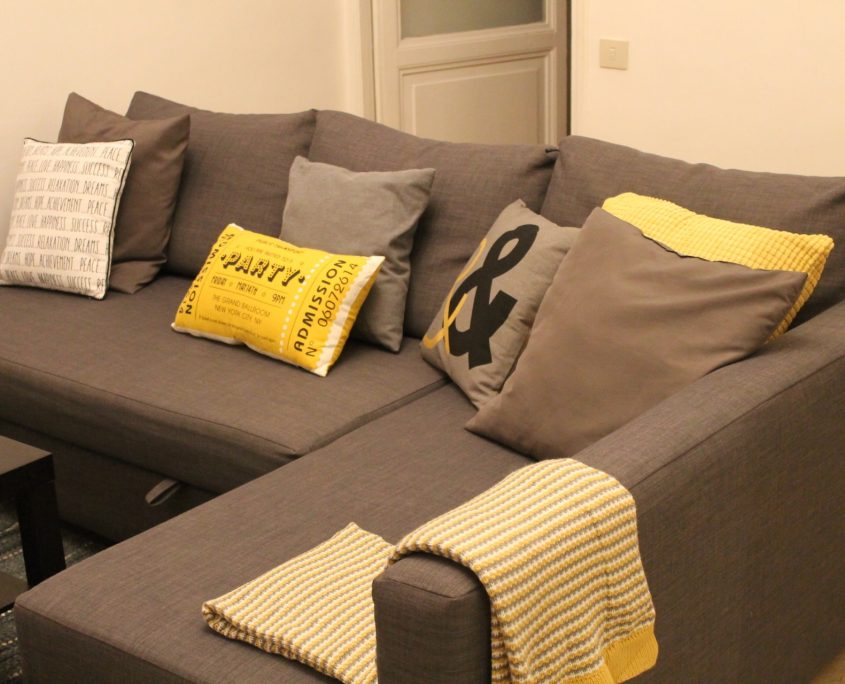 property: three

hundred and forty     

PRICING KEY

€€€ Cedric
Tours, France
"The apartment is lovely, quite big, a lot of light, very well decorated, extremely clean." Jo
Birmingham, United Kingdom
"The apartment is in a beautiful part of Rome and we found it a fantastic base for our first trip there. The pictures shown are a true reflection, the apartment feels really spacious and beautifully designed. We had everything we needed."Apartment #271 Marisa
Apartment 340
"Great location on a quiet street in the heart of Trastevere. The host was super responsive and helpful." Scott
Apartment 440
"Sinead was the most helpful host. Very polite and friendly. The studio was charming and cosy, with the added bonus of a roof terrace." John
New Mexico, USA
Fantastic place to stay - perfectly situated in Rome easy access from Roma Termini. Close to Colosseum and transportation from there is easy to everywhere else. Many fine restaurants and coffee shops within easy walking distance. No problem at all with Wi-Fi or air conditioning at all. Coded entry and elevator made things much more comfortable. Very nice neighborhood and quiet considering you're in Rome. Mark
Toronto, Canada
"The apartment was clean and well-stocked. It is in an ideal location: near 2 Metro Stations - but we mostly walked as most of the central attractions were not far away." Lee
London, UK
"The apartment in Centro Storico was fantastic. The location is amazing . I'd recommend the apartment 100% and would have no qualms going back" Amo
Hoeslet, Belgium
"The flat is big, super clean and well situated. Kyle showed me the flat and we went through a file compiling all the information you need for your stay." Bosko
Chicago, Illinois, USA
"Location, location and location. Excellent place in Trastevere that is walking distance to shops, restaurants and historical sites. Apartment was very comfortable for 2 people." Asif
Apartment 340
"The location is simply ideal. You come out on to wonderful cobblestone streets with something on every corner including many good places to eat!"
This apartment can easily be configured for one, two or three tenants. The large living room has a pull-out sofa and antique bureau with lots of storage space. The spacious bathroom features a soaking tub and period blue tile. The eat-in kitchen is enormous and equipped with a 4-burner stovetop, oven, washing machine, large-size refrigerator and plenty of counter space to prepare delicious Italian meals. The large bedroom has two beds, but a third bed can be brought in for those tenants desiring a completely separate living area. The bedroom has floor to ceiling closets providing plenty of storage. This apartment is located on one of the most photographed streets in Trastevere.