Apartment for Rent – Rome – Trastevere
Available December 15th, 2019

50 Square Meters

1 Bedroom

1 Bath

Renovated Kitchen with Dining Table

Sofa Bed for

Guests

Large Bathroom with Soaking Tub

New Furnishings Throughout

Quiet Location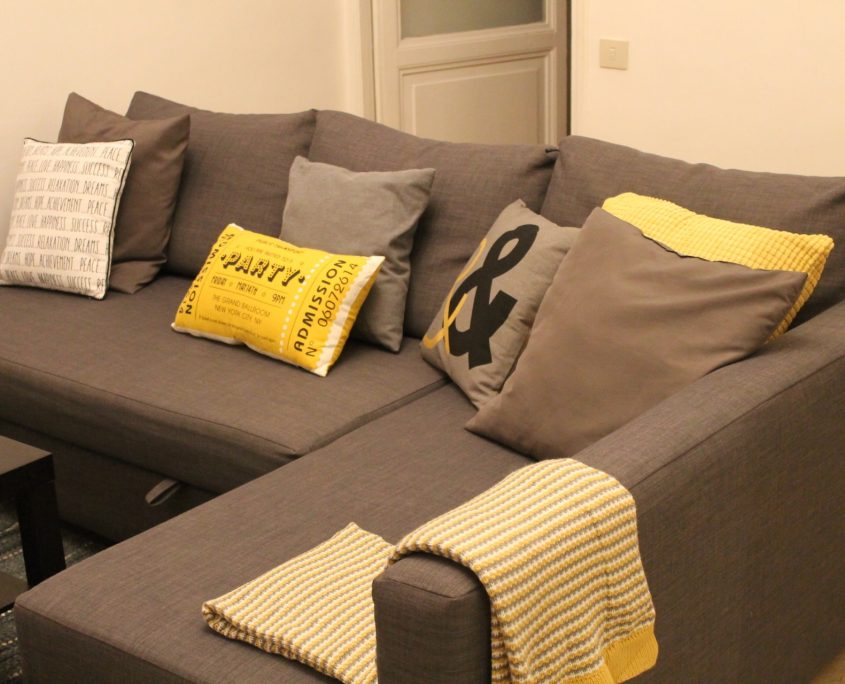 property: three

hundred and forty     

PRICING KEY

€€€ Marisa
Apartment 340
"Great location on a quiet street in the heart of Trastevere. The host was super responsive and helpful." Scott
Apartment 440
"Sinead was the most helpful host. Very polite and friendly. The studio was charming and cosy, with the added bonus of a roof terrace." Richard
London, UK
"The apartment itself is better than it looks in the photos, quite light and airy, atmospheric, but well specced out." Hazel
Washington D.C., USA
"The apartment was great, fantastic location, had everything we needed for our stay." Ehud
Ramat Gan, Israel
"The place is warm, clean and very pleasant.' Hank
Sullivan's Island, USA
"The Trastevere apartment is in a perfect location. It was lovely: comfortable, and clean." Guido
Turin, Italy
"The apartment is probably better than in pictures, very comfortable, clean and well furnished. It' s strategically located in a safe and quiet street, very close to Trastevere centre." Michael
Topeka, Kansas, USA
"Fantastic location in the heart of Trastevere. Apartment was roomy and well decorated. The terrace was a fantastic way to end the evening or begin the day for those arising early. " David
Hartsdale, US
"The inside of the apartment was better than all the descriptions and pictures - and perfect for us." Teresa
Toronto, Canada
"We really enjoyed staying at this apartment. The rooftop terrace is lovely and the apartment had everything we needed. The location is in a very vibrant and safe neighborhood with tons of great restaurants nearby."Apartment #271
This apartment can easily be configured for one, two or three tenants. The large living room has a pull-out sofa and antique bureau with lots of storage space. The spacious bathroom features a soaking tub and period blue tile. The eat-in kitchen is enormous and equipped with a 4-burner stovetop, oven, washing machine, large-size refrigerator and plenty of counter space to prepare delicious Italian meals. The large bedroom has two beds, but a third bed can be brought in for those tenants desiring a completely separate living area. The bedroom has floor to ceiling closets providing plenty of storage. This apartment is located on one of the most photographed streets in Trastevere.