Apartment for Rent – Rome – Trastevere
Via dell'arco di San Calisto
Available NOW

125 Square Meters

3 Bedrooms

2 Bath

Quiet and Spacious

Open Kitchen and Living Room

Private Small Balcony

Terracotta floors

Colorful Art Work Throughout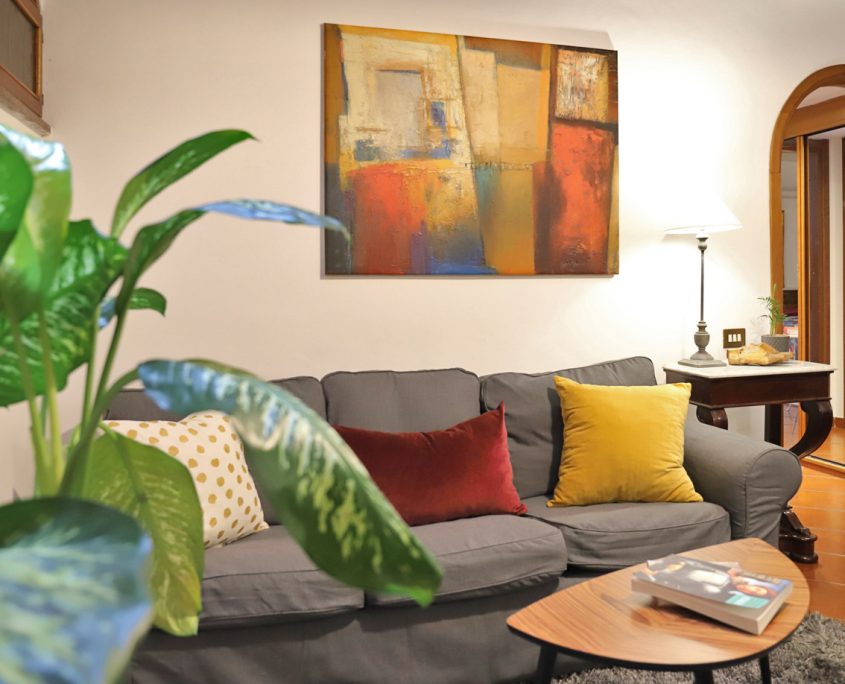 property: one hundred and eighty eight

     

PRICING KEY

5€ Thomas
Chicago, USA
"Perfect apartment for our family of three in Rome with a great neighborhood location in Trastevere. Spacious, with a comfortable double bed in the main bedroom. Walking distance to numerous stores, cafes, bars, restaurants and gelaterie." Nicole
Ithaca, NY USA
"Really wonderful apartment. It was great to spend the evenings on the terrace. The living room is also very nice and happily the apartment didn't get too hot" John
New Mexico, USA
Fantastic place to stay - perfectly situated in Rome easy access from Roma Termini. Close to Colosseum and transportation from there is easy to everywhere else. Many fine restaurants and coffee shops within easy walking distance. No problem at all with Wi-Fi or air conditioning at all. Coded entry and elevator made things much more comfortable. Very nice neighborhood and quiet considering you're in Rome. Hazel
Washington D.C., USA
"The apartment was great, fantastic location, had everything we needed for our stay." Troy
Chicago, Illinois, USA
"the apartment is situated on a quiet and beautiful street close to it all. The apartment was very clean and comfortable as well as the building overall." Teresa
Toronto, Canada
"We really enjoyed staying at this apartment. The rooftop terrace is lovely and the apartment had everything we needed. The location is in a very vibrant and safe neighborhood with tons of great restaurants nearby."Apartment #271 Matt
Vancouver, Canada
"The apartment was as good as the pictures - excellent location, very quiet, and clean" Lauren
Germany
"Amazing! This apartment really made our trip incredible and had everything needed for a holiday in Rome. The private terrace was definitely our favorite spot" Jo
Birmingham, United Kingdom
"The apartment is in a beautiful part of Rome and we found it a fantastic base for our first trip there. The pictures shown are a true reflection, the apartment feels really spacious and beautifully designed. We had everything we needed."Apartment #271 Susanne
Copenhagen, Denmark
"The apartment is very much in the middle of it all. Great location for all the sights of Rome, nightlife, restaurants."
This three-bedroom, two-bathroom apartment has it all; location, size and amenities. Located on the corner of Via dell'Arco di San Calisto and Via dei Fienaroli, in Rome's Trastevere neighborhood, this recently refreshed apartment is perfect for everyone. Whether you are a student, professional or relocating to Rome with your family, you will find this apartment to have everything that you need. The three, large bedrooms have ample storage throughout. Custom built-ins ensure you have a space for everything. The sizable bathrooms have plenty of storage and updated fixtures. The "great room" is the perfect gathering point to eat, relax and spend time with family and friends. Original tile floors throughout, air conditioning, ceiling fans (in each bedroom) and update furnishings make this apartment truly a home.