Apartment for Rent – Rome – Trastevere
Available Dec 18, 2019

3 Bedrooms

2 Bath

Separate Kitchen

Living / Dining Room

Elevator

Convenient Location

Shops and Markets Nearby

Air Conditioning Throughout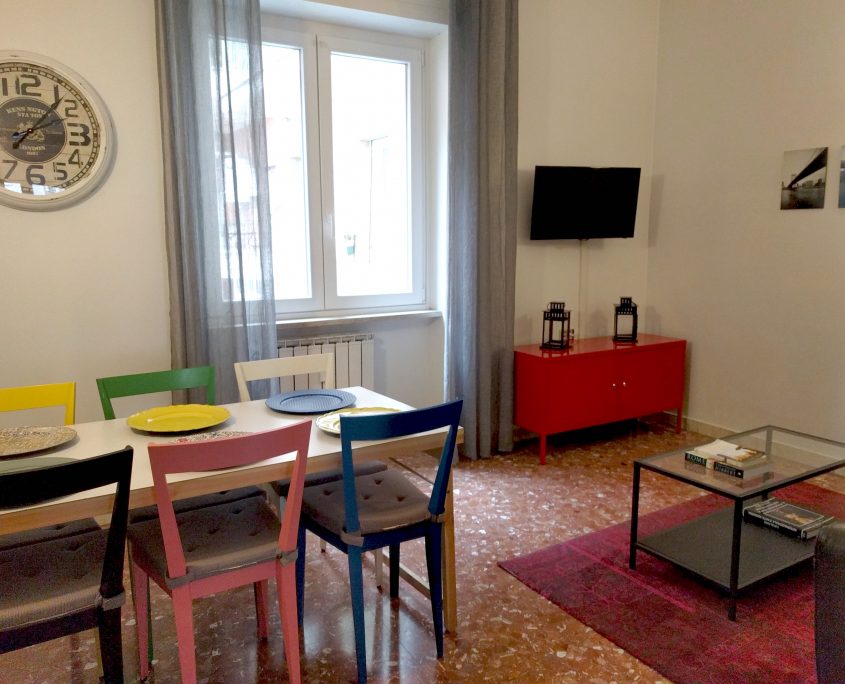 property: four hundred and ninety nine

     

PRICING KEY

 €€€€ Lee
London, UK
"The apartment in Centro Storico was fantastic. The location is amazing . I'd recommend the apartment 100% and would have no qualms going back" Caroline
The Hague, Netherlands
"The apartment is fantastic. In the middle of lively Trastevere and yet very quiet. A unique combination." Amo
Hoeslet, Belgium
"The flat is big, super clean and well situated. Kyle showed me the flat and we went through a file compiling all the information you need for your stay." Cedric
Tours, France
"The apartment is lovely, quite big, a lot of light, very well decorated, extremely clean." Jean-Baptise
Paris, France
"The location is ideal, we were able to do everything on foot. We are delighted with our stay in Rome!." Thomas
Chicago, USA
"Perfect apartment for our family of three in Rome with a great neighborhood location in Trastevere. Spacious, with a comfortable double bed in the main bedroom. Walking distance to numerous stores, cafes, bars, restaurants and gelaterie." Jo
Birmingham, United Kingdom
"The apartment is in a beautiful part of Rome and we found it a fantastic base for our first trip there. The pictures shown are a true reflection, the apartment feels really spacious and beautifully designed. We had everything we needed."Apartment #271 Troy
Chicago, Illinois, USA
"the apartment is situated on a quiet and beautiful street close to it all. The apartment was very clean and comfortable as well as the building overall." Kees
Groningen, Netherlands
"The apartment is great: clean and comfortable, fast wifi connection, very welcoming and lighter than I expected based on the photos. The location is perfect, in the nicer parts of Trastevere." Trevor
Apartment 167
"Nice 2 bedroom with a balcony in a central part of town. Very clean, as described, and Sinead was both a knowledgeable and pleasant host."
A convenient location and spacious layout are two major components of this great find on Viale Trastevere. The apartment's three bedrooms, two bathrooms and large living room, which line both sides of the apartment, all have windows that provide sunlight and views to the street below and interior courtyard. The bathrooms each have shower stalls, and there is ample storage space throughout the hallway in the built-in closets. The versatile bedrooms each have different features, one has a matrimoniale sized bed, one has a full size day bed and the last one has two twin beds which can be made into a matrimoniale size. 
All of the rooms are located off of the main hallway, which provides roommates with privacy, and the large living room offers a communal space for gatherings. With it's modern amenities and cozy breakfast table, the kitchen serves as both an additional dining area and space to cook meals with ease. The living room also doubles as a dining room and has a comfortable sofa and television. 
An ideal space for several people looking to enjoy the convenience of living in Trastevere in a spacious and modern apartment.