Available June 1, 2021

75 Square Meters

2 Bedrooms

2 Bath

Spacious Living Room

Private Terrace

Quiet and Convenient Neighborhood

Original Period Floors

Elevator

Air Conditioning

Secured Building with Coded Entry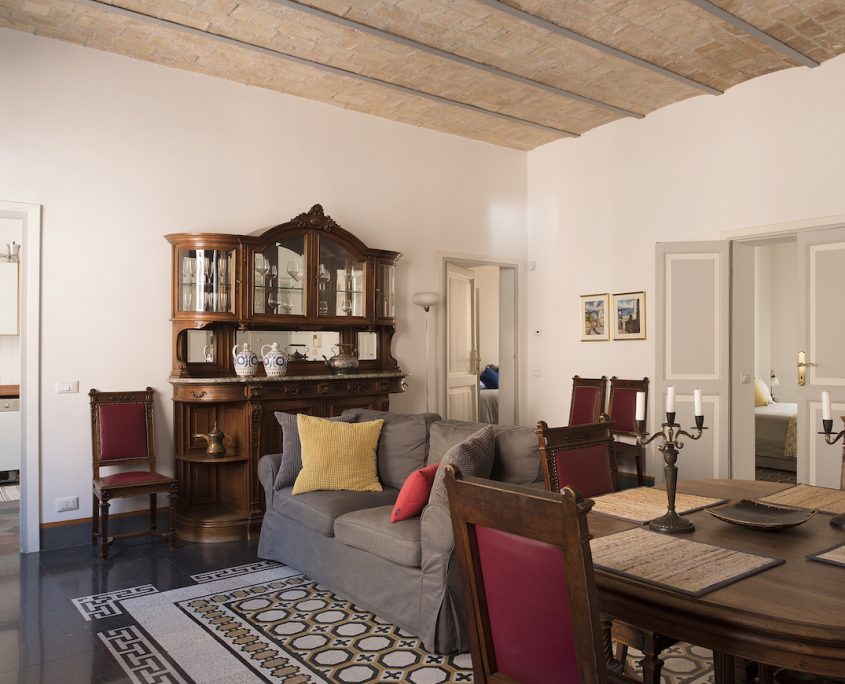 property: four hundred and nineteen

     

PRICING KEY

€€€€ Teresa
Toronto, Canada
"We really enjoyed staying at this apartment. The rooftop terrace is lovely and the apartment had everything we needed. The location is in a very vibrant and safe neighborhood with tons of great restaurants nearby." Apartment #271 Marisa
Apartment 340
"Great location on a quiet street in the heart of Trastevere. The host was super responsive and helpful." Nicole
Ithaca, NY USA
"Really wonderful apartment. It was great to spend the evenings on the terrace. The living room is also very nice and happily the apartment didn't get too hot" Lee
London, UK
"The apartment in Centro Storico was fantastic. The location is amazing . I'd recommend the apartment 100% and would have no qualms going back" Lauren
Germany
"Amazing! This apartment really made our trip incredible and had everything needed for a holiday in Rome. The private terrace was definitely our favorite spot" Scott
Apartment 440
"Sinead was the most helpful host. Very polite and friendly. The studio was charming and cosy, with the added bonus of a roof terrace." Cedric
Tours, France
"The apartment is lovely, quite big, a lot of light, very well decorated, extremely clean." John
New Mexico, USA
Fantastic place to stay - perfectly situated in Rome easy access from Roma Termini. Close to Colosseum and transportation from there is easy to everywhere else. Many fine restaurants and coffee shops within easy walking distance. No problem at all with Wi-Fi or air conditioning at all. Coded entry and elevator made things much more comfortable. Very nice neighborhood and quiet considering you're in Rome. Asif
Apartment 340
"The location is simply ideal. You come out on to wonderful cobblestone streets with something on every corner including many good places to eat!" Hazel
Washington D.C., USA
"The apartment was great, fantastic location, had everything we needed for our stay."
Located just steps from Rome's historic Colosseum, this spacious bohemian style apartment on Via Capo d'Africa is perfect for families and/or professionals relocating to Rome for a longer period (a minimum of one year). The two-bedroom, two-bathroom apartment has an open floor plan with spacious, bright living room and characteristic floors throughout. Off of the living room is a large guest bathroom with stall shower. The updated kitchen has a breakfast table for two, 4-burner gas stovetop, oven, dishwasher, washing machine and full-size refrigerator. A chef's dream! The high ceilings and unique floors continue into the guest bedroom. The master suite has a large walk-in closet, a private bathroom with a large tub and shower, new vanity and fixtures. Off of the guest bedroom is a small private balcony where one can enjoy a cup of coffee with the morning newspaper. A unique find in a very sought after location.