Available Now

40 Square Meters

1 Bedroom

1 Bath

 

Small Interior Terrrace

Modern Kitchen

Garden Level Apartment

Newly Refreshed

Quiet Residential Location

Close to sports and concert venues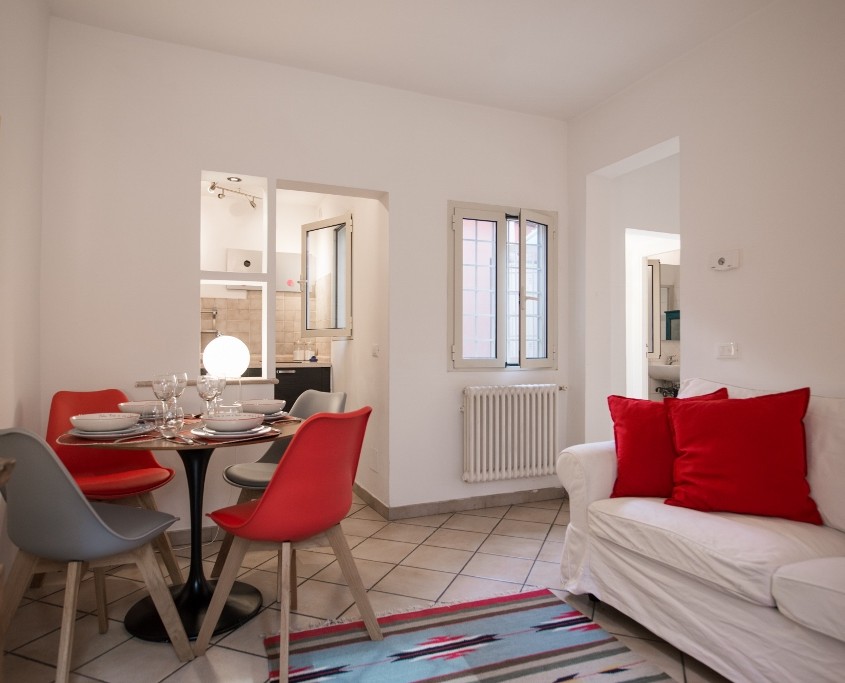 property: five

 hundred and forty seven     

PRICING KEY

€ Lee
London, UK
"The apartment in Centro Storico was fantastic. The location is amazing . I'd recommend the apartment 100% and would have no qualms going back" Richard
London, UK
"The apartment itself is better than it looks in the photos, quite light and airy, atmospheric, but well specced out." Amo
Hoeslet, Belgium
"The flat is big, super clean and well situated. Kyle showed me the flat and we went through a file compiling all the information you need for your stay." Mark
Cambridge, UK
"Great apartment. Just a delight to stay in." - apartment 188 Liz
Amsterdam, Netherlands
"The apartment itself is so much bigger than it looks in the pictures! The kitchen in particular is really awesome. Everything is modern and works well. I would highly recommend staying in this apartment when in Rome for a genuine Roman experience!" Guido
Turin, Italy
"The apartment is probably better than in pictures, very comfortable, clean and well furnished. It' s strategically located in a safe and quiet street, very close to Trastevere centre." Mark
Toronto, Canada
"The apartment was clean and well-stocked. It is in an ideal location: near 2 Metro Stations - but we mostly walked as most of the central attractions were not far away." Lauren
Germany
"Amazing! This apartment really made our trip incredible and had everything needed for a holiday in Rome. The private terrace was definitely our favorite spot" Jean-Baptise
Paris, France
"The location is ideal, we were able to do everything on foot. We are delighted with our stay in Rome!." Thomas
Chicago, USA
"Perfect apartment for our family of three in Rome with a great neighborhood location in Trastevere. Spacious, with a comfortable double bed in the main bedroom. Walking distance to numerous stores, cafes, bars, restaurants and gelaterie."
Nestled on a back street near Ponte Milvio in Rome's Flaminio neighborhood, this hidden gem is perfect for a student or young professional working in Flaminio or the area near Rome's Olympic park. This ground level one-bedroom, one-bathroom apartment is accessed by a private entrance. The bright, open living room has a dining table, 4 chairs and sofa bed. A great place to cuddle up with a good book or where friends can sleep while they are visiting you in the Eternal City. The recently updated kitchen has plenty of counter space, apartment size refrigerator and two-burner induction stovetop. The large, separate bedroom is has a queen size bed and air conditioning. The beautiful bathroom was recently remodeled. Large stall shower, new fixtures and a washing machine. To add to the charm, this apartment also has a private, interior terrace. A great place to have a nice dinner or enjoy a bottle of wine during the cool Roman nights. Wireless Internet is installed, air conditioning throughout and independent heating. A great value in lively neighborhood.