Apartment for Rent – Rome – Trastevere
Available NOW

45 Square Meters

1 Bedroom

1 Bath

 

Living/Dining Room

Full Kitchen

Centrally Located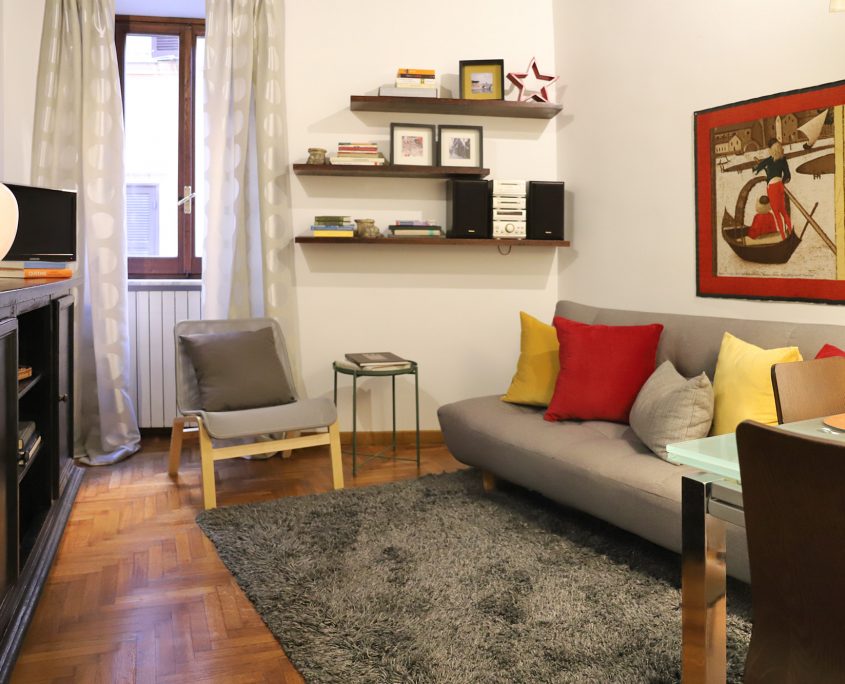 property:three hundred and fifty-nine Hazel
Washington D.C., USA
"The apartment was great, fantastic location, had everything we needed for our stay." Xavier
Zurich, Switzerland
"The apartment was really nice and the Trastevere neighbourhood the best option to stay at Rome in our opinión." Lee
London, UK
"The apartment in Centro Storico was fantastic. The location is amazing . I'd recommend the apartment 100% and would have no qualms going back" Richard
London, UK
"The apartment itself is better than it looks in the photos, quite light and airy, atmospheric, but well specced out." Matt
Vancouver, Canada
"The apartment was as good as the pictures - excellent location, very quiet, and clean" Marisa
Apartment 340
"Great location on a quiet street in the heart of Trastevere. The host was super responsive and helpful." Bev
London, United Kingdom
"The apartment is gorgeous, exactly like the photos on the website. The terrace is lovely, a great place for breakfast and for a glass of wine at the end of the day." Mark
Cambridge, UK
"Great apartment. Just a delight to stay in." - apartment 188 John
New Mexico, USA
Fantastic place to stay - perfectly situated in Rome easy access from Roma Termini. Close to Colosseum and transportation from there is easy to everywhere else. Many fine restaurants and coffee shops within easy walking distance. No problem at all with Wi-Fi or air conditioning at all. Coded entry and elevator made things much more comfortable. Very nice neighborhood and quiet considering you're in Rome. George
Needham, Massachusetts, USA
"The apartment has fantastic windows which really reduce the noise from the busy street. Fantastic location in the middle of Trastevere with many restaurants close. I would definitely stay here again in the future."
Perfectly situated one-bedroom, one-bathroom apartment in the heart of Rome's Trastevere neighborhood. The welcoming living room features a comfortable sofa, 4 person glass top dining set and wooden chairs. The kitchen was recently renovated and features all of the amenities one needs; large refrigerator, dishwasher, gas stovetop and oven. A cooks dream! The bedroom is very quiet as the window faces the interior courtyard. Floor to ceiling closets throughout. Lots of storage! The bathroom was recently renovated and features a beautifully tiled shower and modern vanity. Air conditioning throughout the apartment. Lots of character!