Apartment for Rent – Rome – Trastevere
Via Giovanni da Castel Bolognese
Available NOW

65 Square Meters

2 Bedroom

2 Bath

 

Bright and Airy

Large Living/Dining Room

Floor to ceiling closets throughout

Close to Trastevere Station for easy commuting

Elevator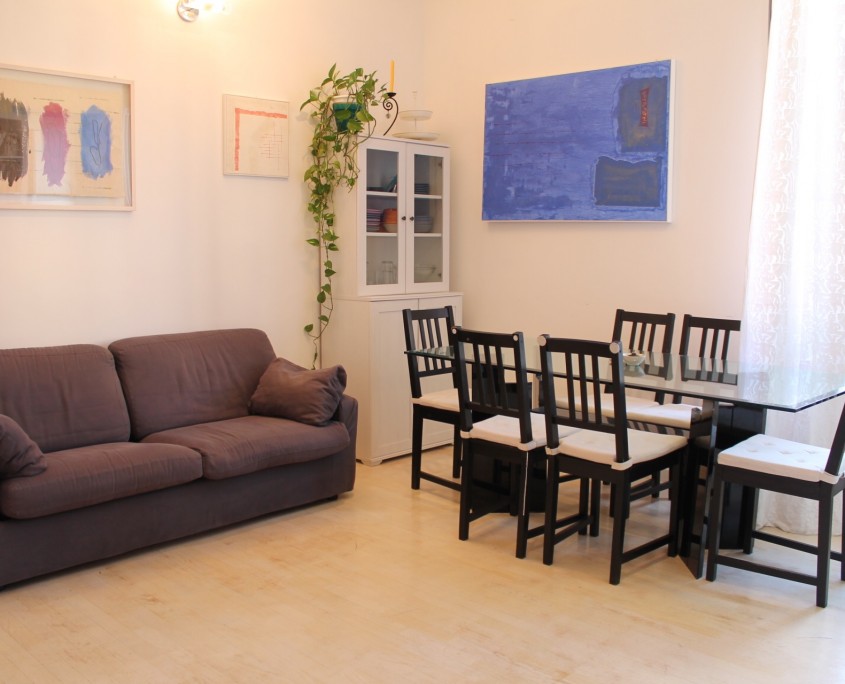 property: five

 hundred and thirty eight     

PRICING KEY €€€ Matt
Vancouver, Canada
"The apartment was as good as the pictures - excellent location, very quiet, and clean" Scott
Apartment 440
"Sinead was the most helpful host. Very polite and friendly. The studio was charming and cosy, with the added bonus of a roof terrace." Amo
Hoeslet, Belgium
"The flat is big, super clean and well situated. Kyle showed me the flat and we went through a file compiling all the information you need for your stay." Richard
London, UK
"The apartment itself is better than it looks in the photos, quite light and airy, atmospheric, but well specced out." Liz
Amsterdam, Netherlands
"The apartment itself is so much bigger than it looks in the pictures! The kitchen in particular is really awesome. Everything is modern and works well. I would highly recommend staying in this apartment when in Rome for a genuine Roman experience!" Trevor
Apartment 167
"Nice 2 bedroom with a balcony in a central part of town. Very clean, as described, and Sinead was both a knowledgeable and pleasant host." Kees
Groningen, Netherlands
"The apartment is great: clean and comfortable, fast wifi connection, very welcoming and lighter than I expected based on the photos. The location is perfect, in the nicer parts of Trastevere." David
Hartsdale, US
"The inside of the apartment was better than all the descriptions and pictures - and perfect for us." Molly
340
"Sinead and Kyle were so accommodating and so helpful all around. The apartment was the perfect size for us. 5 star stay all the way. Will definitely be back and stay again!" Hazel
Washington D.C., USA
"The apartment was great, fantastic location, had everything we needed for our stay."
Tucked away in a traditional Roman palazzo, this newly renovated two-bedroom, two-bathroom apartment is perfect for students or professionals seeking a more quiet and residential location but still a stone's throw from the center of Trastevere. The bright and airy apartment is on the 4th floor with elevator. The large living and dining room is very welcoming. The sofa pulls out into a comfortable bed and the glass dining table is perfect for large dinner parties. The kitchen has a gas stovetop, oven and full-size refrigerator. As you proceed down the hallway you will notice the beautifully designed custom built-ins. Plenty of storage throughout the entire apartment. Each of the newly updated bathrooms features unique tile work and new, modern fixtures. The smaller of the two bedrooms is perfect for the guests or to use as an office or study. The large master bedroom has an en-suite bathroom and lots of light. The building has a shared terrace just one flight up. Wi-Fi is installed. The apartment has air conditioning in the living room and master bedroom. A great find!