Apartment for Rent – Rome – Trastevere
Available NOW

38 Square Meters

1 Bedroom

1 Bath

Recently Refurbished

Custom Designed Kitchen

Unique Art and Sculptures

Small Balcony

Unique Distressed Flooring

​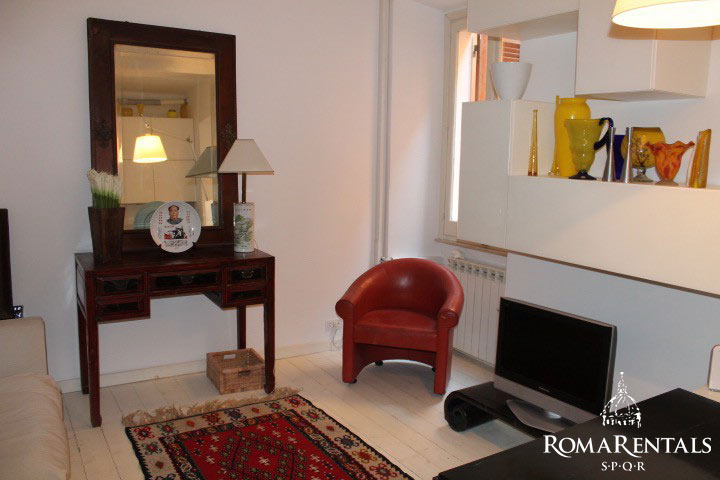 property: five hundred and fifteen

     

PRICING KEY

€€ David
Hartsdale, US
"The inside of the apartment was better than all the descriptions and pictures - and perfect for us." Richard
London, UK
"The apartment itself is better than it looks in the photos, quite light and airy, atmospheric, but well specced out." Lee
London, UK
"The apartment in Centro Storico was fantastic. The location is amazing . I'd recommend the apartment 100% and would have no qualms going back" Hazel
Washington D.C., USA
"The apartment was great, fantastic location, had everything we needed for our stay." Kees
Groningen, Netherlands
"The apartment is great: clean and comfortable, fast wifi connection, very welcoming and lighter than I expected based on the photos. The location is perfect, in the nicer parts of Trastevere." Margaret
South Bend, Indiana, USA
"The apartment was immaculate, well-furnished, and very comfortable. The terrace is even more lovely than the pictures suggest. This was a great apartment!" Marisa
Apartment 340
"Great location on a quiet street in the heart of Trastevere. The host was super responsive and helpful." George
Needham, Massachusetts, USA
"The apartment has fantastic windows which really reduce the noise from the busy street. Fantastic location in the middle of Trastevere with many restaurants close. I would definitely stay here again in the future." Scott
Apartment 440
"Sinead was the most helpful host. Very polite and friendly. The studio was charming and cosy, with the added bonus of a roof terrace." Bev
London, United Kingdom
"The apartment is gorgeous, exactly like the photos on the website. The terrace is lovely, a great place for breakfast and for a glass of wine at the end of the day."
Located on Piazza San Cosimato, this recently refurbished one-bedroom apartment is perfect for a professional seeking a quiet retreat in the heart of Trastevere. Everything in this apartment has a story. Each piece of furniture, including the kitchen, have been hand picked for the space. The living/dining/kitchen is very bright with several built-ins, air conditioning and flat screen TV. The modern bathroom is just off the kitchen and has beautiful tile work and a small changing area. The bedroom has a matrimonial bed, plenty of closet space and a small balcony that faces an internal courtyard. Just repainted. High ceilings throughout. A hidden gem!