75 square meters

2 Bedrooms

2 Bath

Living Room / Dining Room

Full Kitchen

Lively Pedestrian Only Street

5 Minute Walk to Vatican/St. Peters

Recently Refurbished

Well Decorated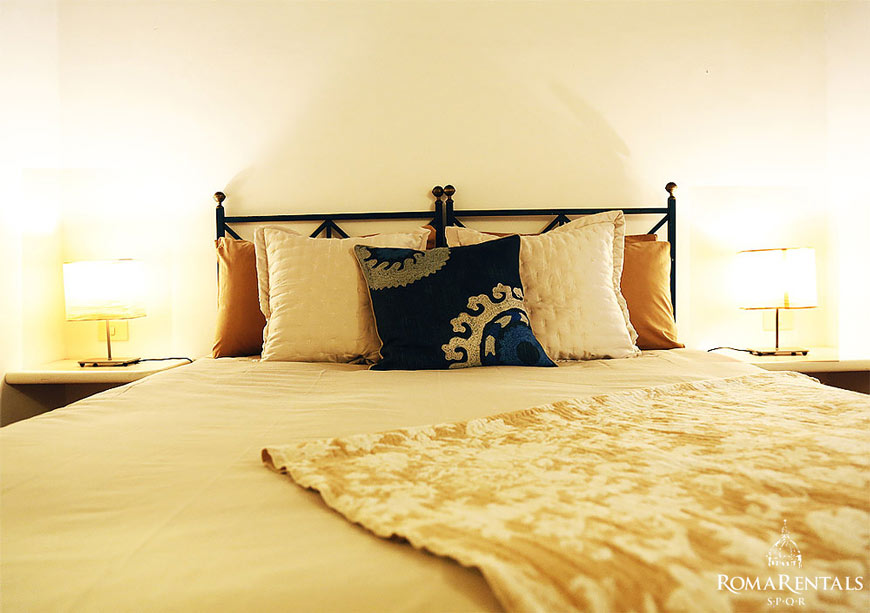 property: 

five hundred an

d six

     

PRICING KEY

€€€€ George
Needham, Massachusetts, USA
"The apartment has fantastic windows which really reduce the noise from the busy street. Fantastic location in the middle of Trastevere with many restaurants close. I would definitely stay here again in the future." Bosko
Chicago, Illinois, USA
"Location, location and location. Excellent place in Trastevere that is walking distance to shops, restaurants and historical sites. Apartment was very comfortable for 2 people." John
New Mexico, USA
Fantastic place to stay - perfectly situated in Rome easy access from Roma Termini. Close to Colosseum and transportation from there is easy to everywhere else. Many fine restaurants and coffee shops within easy walking distance. No problem at all with Wi-Fi or air conditioning at all. Coded entry and elevator made things much more comfortable. Very nice neighborhood and quiet considering you're in Rome. Hank
Sullivan's Island, USA
"The Trastevere apartment is in a perfect location. It was lovely: comfortable, and clean." Matt
Vancouver, Canada
"The apartment was as good as the pictures - excellent location, very quiet, and clean" Jo
Birmingham, United Kingdom
"The apartment is in a beautiful part of Rome and we found it a fantastic base for our first trip there. The pictures shown are a true reflection, the apartment feels really spacious and beautifully designed. We had everything we needed."Apartment #271 Amo
Hoeslet, Belgium
"The flat is big, super clean and well situated. Kyle showed me the flat and we went through a file compiling all the information you need for your stay." Michael
Topeka, Kansas, USA
"Fantastic location in the heart of Trastevere. Apartment was roomy and well decorated. The terrace was a fantastic way to end the evening or begin the day for those arising early. " Lauren
Germany
"Amazing! This apartment really made our trip incredible and had everything needed for a holiday in Rome. The private terrace was definitely our favorite spot" Mark
Toronto, Canada
"The apartment was clean and well-stocked. It is in an ideal location: near 2 Metro Stations - but we mostly walked as most of the central attractions were not far away."
Located a stone's throw from the Vatican on the charming pedestrian street of Borgo Pio, this cozy two-bedroom apartment has detailed vintage elements reminiscent of a Tuscan country house with the feel of a stylish Scandinavian loft. 
The living area is the focal point of the home and is composed of a dining room with a wooden table that basks in the light of a one-of-a-kind original 50's lamp and a den, in which built in bookshelves line the wall and faces a retro style sofa and gold art deco coffee tables. 
This pied-a-terre's unique layout provides privacy for both the master bedroom, which has sliding doors, a large built-in closet, and the guest suite, which is tucked away on the other side of the apartment. Both bedrooms have private bathrooms decorated with vintage hand-painted tiles, as well as closets and storage space. The washing machine can be found off of the guest suite, on a sunny balcony terrace that peeks out over several neighbouring courtyards. An elegant appartment.