Apartment for Rent – Rome – Trastevere
Via dell'Arco di San Calisto
Available NOW

2 Bedrooms

2 Bath

Large Living/Dining Room

Full Kitchen

Parquet Floors Throughout

Modern & Colorful Decor

Updated Bathrooms

Neighborhood Restaurants & Shopping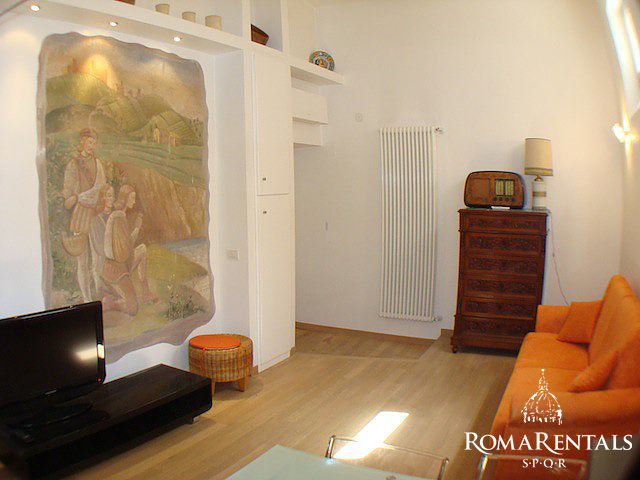 property: two hundred and eighty four

     

PRICING KEY

5€ George
Needham, Massachusetts, USA
"The apartment has fantastic windows which really reduce the noise from the busy street. Fantastic location in the middle of Trastevere with many restaurants close. I would definitely stay here again in the future." Teresa
Toronto, Canada
"We really enjoyed staying at this apartment. The rooftop terrace is lovely and the apartment had everything we needed. The location is in a very vibrant and safe neighborhood with tons of great restaurants nearby."Apartment #271 Caroline
The Hague, Netherlands
"The apartment is fantastic. In the middle of lively Trastevere and yet very quiet. A unique combination." Susanne
Copenhagen, Denmark
"The apartment is very much in the middle of it all. Great location for all the sights of Rome, nightlife, restaurants." Nicole
Ithaca, NY USA
"Really wonderful apartment. It was great to spend the evenings on the terrace. The living room is also very nice and happily the apartment didn't get too hot" Hazel
Washington D.C., USA
"The apartment was great, fantastic location, had everything we needed for our stay." Molly
340
"Sinead and Kyle were so accommodating and so helpful all around. The apartment was the perfect size for us. 5 star stay all the way. Will definitely be back and stay again!" Guido
Turin, Italy
"The apartment is probably better than in pictures, very comfortable, clean and well furnished. It' s strategically located in a safe and quiet street, very close to Trastevere centre." Kees
Groningen, Netherlands
"The apartment is great: clean and comfortable, fast wifi connection, very welcoming and lighter than I expected based on the photos. The location is perfect, in the nicer parts of Trastevere." Margaret
South Bend, Indiana, USA
"The apartment was immaculate, well-furnished, and very comfortable. The terrace is even more lovely than the pictures suggest. This was a great apartment!"
This apartment has it all… location, size, amenities and luxury. Located just steps from Piazza Santa Maria in Trastevere, this two-bedroom, two-bathroom is located on the first floor of a beautiful palazzo of the sixteenth century. The apartment has everything you could want for a short or long-term stay in Rome. The large living area has exposed brick work from the original building. The sofa pulls out to a full-size bed and the dining room can accommodate up to eight guests. The kitchen has a full-size refrigerator, washing machine, dishwasher, microwave and gas stovetop with oven. The master bedroom has a double bed and plenty of closest space. The en-suite bathroom has modern fixtures and a spacious shower with rainwater shower head. The second bedroom has two-single beds and a lofted sleeping area with a single bed. The second bathroom also has modern fixtures and  a shower with a rainwater shower head. This apartment is the best of Trastevere.