Apartment for Rent – Rome – Trastevere
Available May 10th, 2019

45 Square Meters

1 Bedroom

1 Bath

Galley Kitchen 

Eclectic Decor

Beautiful Views Over Santa Maria in Trastevere

Fireplace

Small 

Private  Balcony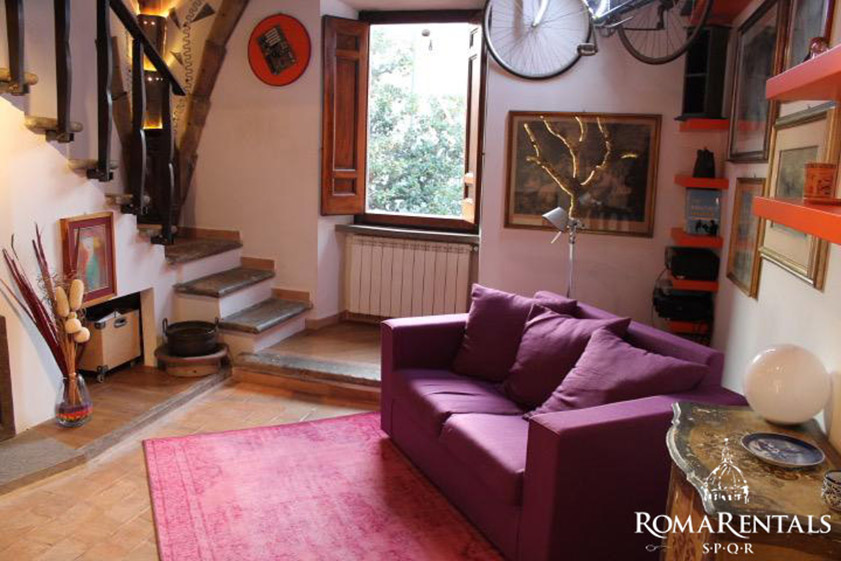 property: three hundred and fifty seven Jean-Baptise
Paris, France
"The location is ideal, we were able to do everything on foot. We are delighted with our stay in Rome!." Xavier
Zurich, Switzerland
"The apartment was really nice and the Trastevere neighbourhood the best option to stay at Rome in our opinión." Mark
Cambridge, UK
"Great apartment. Just a delight to stay in." - apartment 188 Susanne
Copenhagen, Denmark
"The apartment is very much in the middle of it all. Great location for all the sights of Rome, nightlife, restaurants." Kees
Groningen, Netherlands
"The apartment is great: clean and comfortable, fast wifi connection, very welcoming and lighter than I expected based on the photos. The location is perfect, in the nicer parts of Trastevere." John
New Mexico, USA
Fantastic place to stay - perfectly situated in Rome easy access from Roma Termini. Close to Colosseum and transportation from there is easy to everywhere else. Many fine restaurants and coffee shops within easy walking distance. No problem at all with Wi-Fi or air conditioning at all. Coded entry and elevator made things much more comfortable. Very nice neighborhood and quiet considering you're in Rome. Lauren
Germany
"Amazing! This apartment really made our trip incredible and had everything needed for a holiday in Rome. The private terrace was definitely our favorite spot" Amo
Hoeslet, Belgium
"The flat is big, super clean and well situated. Kyle showed me the flat and we went through a file compiling all the information you need for your stay." Richard
London, UK
"The apartment itself is better than it looks in the photos, quite light and airy, atmospheric, but well specced out." Jo
Birmingham, United Kingdom
"The apartment is in a beautiful part of Rome and we found it a fantastic base for our first trip there. The pictures shown are a true reflection, the apartment feels really spacious and beautifully designed. We had everything we needed."Apartment #271
Nestled on top of a medieval building in the heart of Trastevere, this bi-level, one-bedroom apartment has direct views onto Piazza Santa Maria in Trastevere. The apartment is available for long or short rentals. The artsy living room has unique light installations highlighting the original structure from the late 1600's. The original concrete stairs take you to the upper level with an updated galley kitchen that features a full size oven, 2 burner electric stovetop, stainless steel exhaust fan, refrigerator, and a large, four-person dining table. The spacious bathroom has a large Roman limestone vanity with two mirrors, ample counter space, large shower and plenty of storage. The cozy bedroom has a matrimonial bed, lots of closet and storage space, a small plasma TV mounted on the wall, reading desk, and access to the small balcony, perfectly situated to sip your morning coffee. This artist style apartment is decorated with vintage books, magazines, posters and other unique pieces of art that make this apartment truly special. Simply beautiful with its terracotta tiles and original wood beam ceilings, it is a great find!