Apartment for Rent – Rome – Prati
Available May 12th, 2020

110 Square Meters

3 Bedrooms

2 Bath

Large Living Room

Private Terrace

Quiet Residential Location

Restored Terrazzo Floors

Close to the Vatican and Monte Mario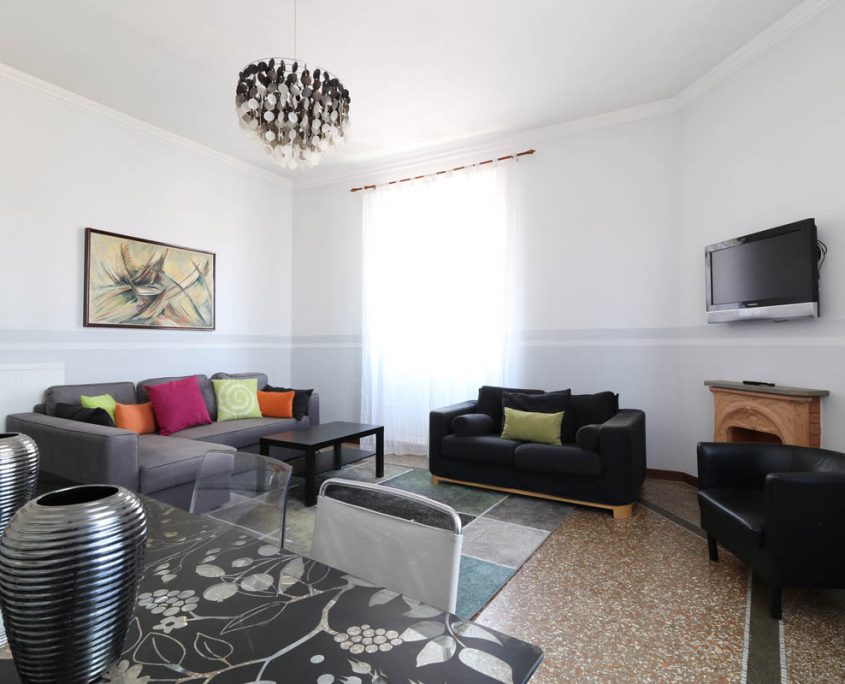 property: 

four hundred an

d seventy one Richard
London, UK
"The apartment itself is better than it looks in the photos, quite light and airy, atmospheric, but well specced out." Kees
Groningen, Netherlands
"The apartment is great: clean and comfortable, fast wifi connection, very welcoming and lighter than I expected based on the photos. The location is perfect, in the nicer parts of Trastevere." Susanne
Copenhagen, Denmark
"The apartment is very much in the middle of it all. Great location for all the sights of Rome, nightlife, restaurants." John
New Mexico, USA
Fantastic place to stay - perfectly situated in Rome easy access from Roma Termini. Close to Colosseum and transportation from there is easy to everywhere else. Many fine restaurants and coffee shops within easy walking distance. No problem at all with Wi-Fi or air conditioning at all. Coded entry and elevator made things much more comfortable. Very nice neighborhood and quiet considering you're in Rome. David
Hartsdale, US
"The inside of the apartment was better than all the descriptions and pictures - and perfect for us." Lauren
Germany
"Amazing! This apartment really made our trip incredible and had everything needed for a holiday in Rome. The private terrace was definitely our favorite spot" Hazel
Washington D.C., USA
"The apartment was great, fantastic location, had everything we needed for our stay." Guido
Turin, Italy
"The apartment is probably better than in pictures, very comfortable, clean and well furnished. It' s strategically located in a safe and quiet street, very close to Trastevere centre." Thomas
Chicago, USA
"Perfect apartment for our family of three in Rome with a great neighborhood location in Trastevere. Spacious, with a comfortable double bed in the main bedroom. Walking distance to numerous stores, cafes, bars, restaurants and gelaterie." Jo
Birmingham, United Kingdom
"The apartment is in a beautiful part of Rome and we found it a fantastic base for our first trip there. The pictures shown are a true reflection, the apartment feels really spacious and beautifully designed. We had everything we needed."Apartment #271
Tucked away on the picturesque streets of Rome's Prati neighborhood, this large three-bedroom, two-bathroom apartment is perfect for a large family looking for an apartment with lots of space and modern conveniences. As your enter the 110 sqm apartment you will immediately notice the original in-laid floors, large windows and high ceilings. The expansive corridor offers convenient access to a small terrace and is lined with closets for plenty of storage. The smaller first bedroom, on the left, is perfect for a study or office. The large living room is equipped with a large sectional sofa, a loveseat, and dining table for six. The modern decor offsets the classic elements that make this home truly unique. The second bedroom has large closets for storage and the third bedroom has a walk-in closet. The smaller bathroom has a large stall shower and beautiful tile work. The larger bathroom has a dual sink vanity, shower and built-in shelves. The kitchen is equipped with all the modern conveniences; a dishwasher, large refrigerator, four-burner gas stove, oven, microwave and washing machine. Wi-Fi is installed.