Apartment for Rent – Rome – Trastevere
Available NOW

Studio

1 Bath

Kitchenette

Hardwood Floors

Eclectic Decor

Bright & Sunny

Guest Sofa Bed

Great Location in Trastevere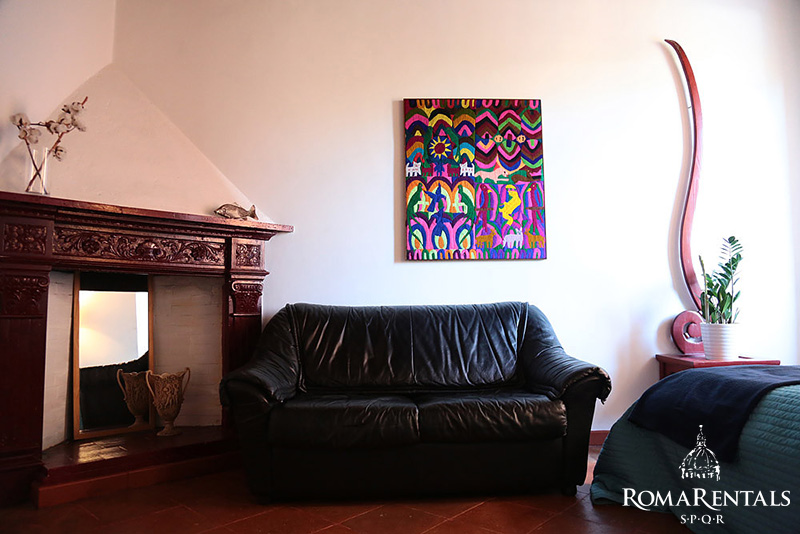 property: four hundred and forty

    

PRICING KEY

€ Hazel
Washington D.C., USA
"The apartment was great, fantastic location, had everything we needed for our stay." Trevor
Apartment 167
"Nice 2 bedroom with a balcony in a central part of town. Very clean, as described, and Sinead was both a knowledgeable and pleasant host." Michael
Topeka, Kansas, USA
"Fantastic location in the heart of Trastevere. Apartment was roomy and well decorated. The terrace was a fantastic way to end the evening or begin the day for those arising early. " John
New Mexico, USA
Fantastic place to stay - perfectly situated in Rome easy access from Roma Termini. Close to Colosseum and transportation from there is easy to everywhere else. Many fine restaurants and coffee shops within easy walking distance. No problem at all with Wi-Fi or air conditioning at all. Coded entry and elevator made things much more comfortable. Very nice neighborhood and quiet considering you're in Rome. Margaret
South Bend, Indiana, USA
"The apartment was immaculate, well-furnished, and very comfortable. The terrace is even more lovely than the pictures suggest. This was a great apartment!" Troy
Chicago, Illinois, USA
"the apartment is situated on a quiet and beautiful street close to it all. The apartment was very clean and comfortable as well as the building overall." Matt
Vancouver, Canada
"The apartment was as good as the pictures - excellent location, very quiet, and clean" Lauren
Germany
"Amazing! This apartment really made our trip incredible and had everything needed for a holiday in Rome. The private terrace was definitely our favorite spot" Thomas
Chicago, USA
"Perfect apartment for our family of three in Rome with a great neighborhood location in Trastevere. Spacious, with a comfortable double bed in the main bedroom. Walking distance to numerous stores, cafes, bars, restaurants and gelaterie." Scott
Apartment 440
"Sinead was the most helpful host. Very polite and friendly. The studio was charming and cosy, with the added bonus of a roof terrace."
Situated on a quiet street in Trastevere, this quaint studio is perfect for one professional or student. The living area features a double bed, sofa bed, dining table, a small kitchenette with refrigerator, two burner hot plate and ample closet space. The bathroom has a stall shower, newly updated fixtures and beautiful tile work. One of the best features of this apartment is the shared rooftop terrace. From the roof you can see all of historic Rome.