Apartment for Rent – Rome – Trastevere
Available NOW

38 Square Meters

1 Bedroom

1 Bath

Recently Refurbished

Custom Designed Kitchen

Unique Art and Sculptures

Small Balcony

Unique Distressed Flooring

​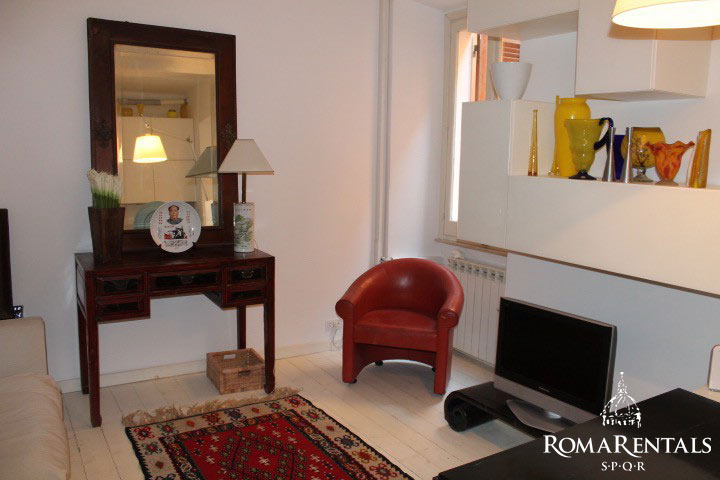 property: five hundred and fifteen

     

PRICING KEY

€€ Bosko
Chicago, Illinois, USA
"Location, location and location. Excellent place in Trastevere that is walking distance to shops, restaurants and historical sites. Apartment was very comfortable for 2 people." Asif
Apartment 340
"The location is simply ideal. You come out on to wonderful cobblestone streets with something on every corner including many good places to eat!" Amo
Hoeslet, Belgium
"The flat is big, super clean and well situated. Kyle showed me the flat and we went through a file compiling all the information you need for your stay." Nicole
Ithaca, NY USA
"Really wonderful apartment. It was great to spend the evenings on the terrace. The living room is also very nice and happily the apartment didn't get too hot" Kees
Groningen, Netherlands
"The apartment is great: clean and comfortable, fast wifi connection, very welcoming and lighter than I expected based on the photos. The location is perfect, in the nicer parts of Trastevere." Troy
Chicago, Illinois, USA
"the apartment is situated on a quiet and beautiful street close to it all. The apartment was very clean and comfortable as well as the building overall." Lauren
Germany
"Amazing! This apartment really made our trip incredible and had everything needed for a holiday in Rome. The private terrace was definitely our favorite spot" Hank
Sullivan's Island, USA
"The Trastevere apartment is in a perfect location. It was lovely: comfortable, and clean." Trevor
Apartment 167
"Nice 2 bedroom with a balcony in a central part of town. Very clean, as described, and Sinead was both a knowledgeable and pleasant host." Teresa
Toronto, Canada
"We really enjoyed staying at this apartment. The rooftop terrace is lovely and the apartment had everything we needed. The location is in a very vibrant and safe neighborhood with tons of great restaurants nearby."Apartment #271
Located on Piazza San Cosimato, this recently refurbished one-bedroom apartment is perfect for a professional seeking a quiet retreat in the heart of Trastevere. Everything in this apartment has a story. Each piece of furniture, including the kitchen, have been hand picked for the space. The living/dining/kitchen is very bright with several built-ins, air conditioning and flat screen TV. The modern bathroom is just off the kitchen and has beautiful tile work and a small changing area. The bedroom has a matrimonial bed, plenty of closet space and a small balcony that faces an internal courtyard. Just repainted. High ceilings throughout. A hidden gem!